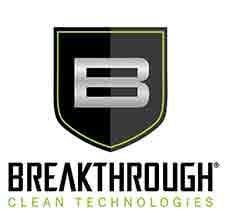 USA -(Ammoland.com)- Breakthrough Clean Technologies, will once again be showcasing their Breakthrough solvents, Battle Born lubricants, and cleaning kits at the 2017 SHOT Show (January 17th-20th at the Sands Convention Center in Las Vegas, NV).
Breakthrough will also be unveiling new products, exclusive show deals, and hosting celebrity shooters at their booth (#109).
Be sure to stop by and join us for new product reveals and launches. The Breakthrough Clean/ Jake Hoback Knives F23 Knife Maintenance Kit, and the Breakthrough Clean/ U.S. Optics Field Lens Kit (FLK) will be on display for folks to see and ask questions.
New products also include Breakthrough's HP100 knife lubricant, Anti-Fog Lens cleaner, Shotgun Rod cleaning kit (SSG-U "Heavy Duty"), and MIL Pull through kit (QWIC-MIL).
Breakthrough will also be hosting a celebrity Q&A hour with their top shooters. Join Team Breakthrough shooters J.J. Racaza, Johnny Primo, Tony Sentmanat, and more at booth #109 on Wednesday (January 18th) from 1:00 P.M to 2:00 P.M. (PST) for autographs, questions, and training tips.
Distributors and dealers are welcomed to pass by booth #109 in order to take advantage of the SHOT show exclusive deals.
Giveaways: Anyone that places an order of $500 (or more) at the show will be entered in a raffle to win a free FULLY STOCKED free standing display.
Discounts: All orders placed at the show will receive a 10 percent discount off the total purchase price.
For more SHOT Show booth news, information, or updates folks are encouraged to follow Breakthrough Clean's Instagram and Facebook pages.
For more information on Breakthrough Clean Technologies' products visit their website.
About Breakthrough Clean Technologies:
Breakthrough Clean Technologies is a subsidiary of the AvioTrade Group of companies, which specializes in the distribution of chemicals within the aerospace industry. AvioTrade has been in business over 12 years servicing major airlines, MRO's and repair stations worldwide. Being gun enthusiasts, the owners of AvioTrade realized a growing need for having a more effective user-safe and eco-friendly cleaning solvent for the performance, protection, and maintenance of firearms. Utilizing their combined 50+years of aerospace chemical experience, access to the best solvent technology, and manufacturing resources specializing in environmental technology,AvioTrade Group brought Breakthrough® Military-Grade Firearm Cleaning Solvent to consumers. In 2014 Breakthrough released Battle Born Grease and Battle Born Oil, upholding the same standards of purity as found in Breakthrough. Breakthrough Clean advocates using state of the art research, processes, and the best chemists to provide the most effective and truly eco-friendly products to consumers around the world.