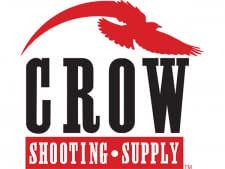 MONTEZUMA, Iowa –-(Ammoland.com)- Crow Shooting Supply invites SHOT Show 2017 attendees to visit its booth #13019 – located just across from Leupold & Stevens, Inc.– to learn about their show specials, free shipping offers and "Crow Cash" giveaway.
The Iowa-based shooting sports wholesaler, with warehouses in Nevada and North Carolina, will have representatives in the booth to talk with current and prospective new customers about their wholesale product lines, unique and customizable service offerings and show specials.
Details about Crow's SHOT Show 2017 specials will be available in the booth and will last through the end of January.
Crow will also be offering free shipping for any order of $500 or more through the end of January 2017.
In addition to their specials and shipping offers, Crow will also be offering customers a chance to win $1,000 in "Crow Cash" which can be used towards any Crow Shooting Supply order. Customers must register in the booth to win the cash.
"We've made a lot of great upgrades to our service offerings in the last year," said Steve Crow, Crow Shooting Supply General Manager. "New website functionality makes it easier for businesses from coast to coast to get products more quickly and our warehouses are working more efficiently than ever before. We're ready to serve, so come say 'hello' at SHOT Show."
To learn more about partnering with Crow Shooting Supply, visit www.crowshootingsupply.com.
About Crow Shooting Supply
Crow Shooting Supply is a family-owned, national wholesale distributor of firearms, ammunition reloading components and shooting accessories. Proudly serving retail gun shops, major sporting goods stores, gun clubs, shooting ranges and government agencies for over 30 years, Crow is a full-line supplier of nearly 100 of the world's premier shooting industry manufacturers. For more information, or to inquire about partnering with Crow Shooting Supply, call 800-264-2493 or visit www.crowshootingsupply.com.