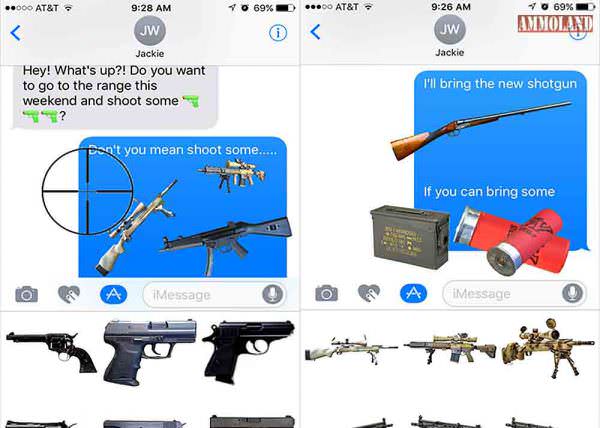 U.S.A. –-(Ammoland.com)- If you're like me, you were devastated when you heard the gun emoji on your iPhone was going to be replaced with a squirt gun (http://www.gunssavelife.com/?p=21894). Like me, you probably saw this as a huge cultural blow to the RKBA crowd.
The app developers at Hardweiblered, LLC set out to fix this problem and we're glad to inform you that we will provide you with a better option than you had before.
Sticker apps allow a person to add predesigned 'stickers' to an iMessage conversation. Some of the most successful examples of these are made up of cat photos or pictures of celebrities. Stickem' Up by Hardweiblered, LLC is ALL firearms.
The app costs $0.99 and is available to apple users through this link: https://appsto.re/us/Cmpwfb.i We have over 50 stickers of firearms, cartridges, reticles and an ammo box on the app and we're collaborating with several manufacturers and competitive shooters to add more. There are a few other firearm related sticker apps and maybe you'd prefer one of those but the thing that sets our app apart is that we're using images of a real walnut and steel firearms for our stickers as opposed to black silhouettes or cartoon renderings. Also, many of our stickers have some provenance in their history. We have a 1911a1 that was carried in a PBY Catalina over the Pacific Ocean in in WWII and we have several of the ultra rare and incredibly valuable DARPA XM-3 sniper rifles(http://stevereicherttraining.com/darpa-xm3/). One of these was and is a personal rifle of Steve Reicherts.
The iPhone is owned by over 100 Million people in the U.S. and over 1 billion people throughout the world. The role that devices like the iPhone play in our lives is ever increasing, especially for the younger crowd. Imagine for a moment that the iPhone was a physical location and that all of these people were spending some time, maybe hours, at that location every day. What goes on in that little device that's inside your pocket or that you might be reading this right now can have a real impact on the future. I am a lifetime member of the NRA and a fervent supporter of the second amendment. I'm sure I don't have to convince you that keeping firearms available in the conversations people have on their devices is tremendously important to the future of the 2A in our culture.