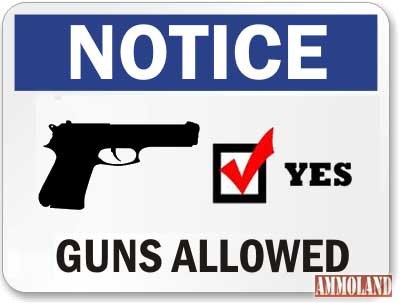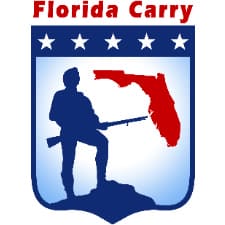 Florida –-(Ammoland.com)- Although the legislative session for 2017 doesn't start until March, important self-defense bills have already been filed and are receiving committee assignments.
Here's what is active to date:
Currently filed bills for 2017
SB 140 – Open Carry and Prohibited Places Reform; Sponsor – Sen. Greg Steube
This bill repeals several carry prohibitions placed on licensed carriers since 1987.
Repeals open carry prohibition. General open carry has been unlawful in Florida since 1987. Prior to then, Each county had its own regulations regarding carry. When the state assumed full and sole authority to regulate firearms, anti-gun zealot and former Miami-Dade State Attorney Janet Reno browbeat the legislature DURING A SPECIAL BUDGET SESSION UNRELATED TO FIREARMS, to prohibit open carry. Using the media to paint fanciful tales of wild west style shootouts, Reno was able to convince lawmakers that needed to ban open carry. However this was supposed to be temporary, as the budget session did not include debate or public comment. Unfortunately, the promised review at the next legislative session did not occur. The bill seeks to repeal the current prohibition for licensed carriers, allowing them to make the decision as to what method of carry is appropriate for them at any given time, rather than the government. Open carry is legal in 45 states and requires no license or permit in 30 of those. Despite the "brief exposure" language added in 2011, licensees are still being arrested for innocent, unintentional exposure. Because "brief" is subjective and the exception is only an affirmative defense which can be raised in court, arrests continue. Opponents of this bill raise hypothetical, "what-if" arguments belied by states where open carry is legal. Only the restoring of open carry as a lawful method of carry will stop these needless arrests of law-abiding licensees.
Removes several locations from the prohibited places list. Florida has a fairly sizable list of places where licensees cannot lawfully carry their firearms. In light of the proven track record of licensees, statistically six times more law-abiding than FL law enforcement officers, places where lawful carry is prohibited are simply disarmament zones for the law-abiding. Gun free zones offer criminals a guaranteed group of helpless victims. The untold and often overlooked side of this is – despite being disarmed by law in these places, neither the state nor the location incurs any heightened liability for safety or security than does the local McDonalds. In fact due to sovereign and qualified immunity, even less!
Meetings of governing bodies – local governments have been abusing this prohibition by declaring an entire building off limits to lawful carry even though the meeting is only in a single room, or not even occurring at that time. As currently written, a licensee would be legal carrying in the corridor, but not in the room where the meeting is taking place.
Meetings of the Legislature – interestingly enough, a licensee can legally carry in the corridors and offices of the state capitol building, just not into a meeting of any committee or the Legislature.
Schools and Career Centers – As late as the early 1990's, many high schools had rifle teams and firearms safety classes. However the paradigm has shifted from education to extermination with regards to firearms. As a result, school shootings soared. In the ten years following the enactment of the 1995 Gun Free Schools Zone Act, school shooting rose over 300%. Columbine demonstrated the ineffectiveness of armed guards, as they are both readily identifiable and have predictable movements on campus. Removing this prohibition would allow statistically vetted licensees to carry on school campuses, enabling both a deterrent that is unpredictable to those intent on mayhem, as well increasing the probability of armed opposition being present. The overwhelming majority of spree shooters either surrender or commit suicide upon the sight of armed opposition. The other component to this is violent crime. Currently, about 400 violent crimes occur on FL college campuses, a fraction of what occurs on college owned, off-campus housing. The opposition focuses on "immature kids" carrying firearms while engaged in drinking and illegal drug use. However the bill only applies to licensed concealed carriers, who must be 21 (except servicemembers), and can have no serious criminal record or history of substance abuse. Licensees, including military veterans and those aged 21 or more, have been carrying lawfully since 1987. Only 6/1000ths of 1 percent have ever lost their licenses due to a crime involving a firearm.
Airport passenger terminals – Currently, Florida is one of only 6 states which ban lawful carry in an airport passenger terminal. This forces licensees to leave their firearm in an unattended vehicle, risking its theft. Additionally, this is often done in badly lit and sparsely populated parking structures. There were 633 violent crimes at just Orlando International Airport last year. Most frequently, this affects the licensee who simply wants to help family with luggage. You cannot now legally enter the baggage claim area armed, as it is part of the passenger terminal. Nowhere else is the absurdity of this prohibition more apparent than at OIA. Above the terminal and open to the terminal atrium, sits the Hyatt Regency. As a licensee, you are perfectly legal to carry in the hotel, but if you take the escalator or elevator to the terminal level, you commit a crime! Imagine that – elevator door closes, legal. Elevator door opens, criminal. In no way does this bill allow licensees to carry past the TSA checkpoints or onto airliners.
Because of the contentiousness of several of the elements of this bill, Florida Carry believes this bill's success will largely be decided on public comment, your engagement on this bill will be critical.
SB 128 – Self-Defense Immunity; Sponsor – Sen. Bradley
Your right to be considered "innocent until proven guilty" should apply at all phases of a criminal case. The current method the courts are using in self-defense immunity hearings is to treat the victim of a violent criminal as "guilty until you prove yourself innocent" if you are forced to defend yourself and your family. The current law clearly says that people who defend themselves are to be immune from "arresting, detaining in custody, and charging or prosecuting". But the Florida Supreme Court ignored this clearly written provision of the law, necessitating this bill.
This bill is critical for your right to Self-Defense!
HB 6001 – Airport Carry; Sponsor – Rep. Jake Raburn
This bill is a related bill to SB 140, and removes the current carry prohibition in airport terminals.
HB 6005 – Campus Carry; Sponsor – Rep. Scott Plakon
This bill is a related bill to SB 140, and removes the current carry prohibition on college campuses.
SB 142 – Storage of Firearms; Sponsor – Sen. Gary M. Farmer, Jr.
This wrongheaded bill risks the lives of families throughout the state. It would require any person with a "child" 16 or younger, to secure any operable firearm under lock and key, without regard to the child's actual ability to safely handle a firearm. It doesn't matter if your 16 year old is a trophy winning competitive marksman, or has been hunting since they were 10, Sen. Farmer says no!
In a state with untold millions of gun owners (over a million and a half are licensed concealed carriers), fewer than ten children (ages 0 – 17) were killed unintentionally by firearms in Florida in 2015 (CDC WISQARS). In contrast, 17 children were accidentally poisoned and 92 drowned last year in Florida. This is a solution seeking a problem. In the Landmark U.S. Supreme Court Case, D.C. v. Heller, laws that require locking guns up and making firearms unusable for immediate defense of life and property were found to be unconstitutional.
SB 170 – New Prohibited Places for Weapons and Firearms; Sponsor – Sen. Oscar Braynon II
In denial of the fact that disarming the law-abiding does nothing to disable a murderer, Sen. Braynon's bill would add performing arts centers and "legitimate theaters" to the prohibited places list! Gun free zones equal unarmed victim zones. We expect this ineffective bill to dutifully die without committee hearing.
Interestingly, the legal term "Legitimate Theater" comes to us from The pre-revolutionary British Licensing Act of 1737. Its purpose was to control and censor what was being said about the British King and government through theater. The bills' sponsor recently pointed to the shooting that happened in the "gun free" theater in Colorado as his motivation for the bill. However, "Legitimate Theater" does not include movie theaters. Not only is the bill dangerously wrongheaded and potentially deadly to good people, it's inartfully drafted.
More bills will be filed over the next few weeks.
Join or Donate Today!
We need your help!
Florida self-defense laws are under unprecedented attack. Florida Carry is fighting back hard in local government, the courts, and the state legislature but cash and volunteer action is necessary to support this important work. Please donate or Join Today.
About Florida Carry:
Florida Carry, Inc. is a non-profit, non-partisan, grassroots organization dedicated to advancing the fundamental rights of all Floridians to keep and bear arms for self-defense as guaranteed by the Second Amendment to the United States Constitution and Article I, Sections 2 and 8 of the Florida Constitution. Florida Carry stands to represent our supporters, members, and millions of defensive arms owners of Florida. We are not beholden to any national organization's agenda that may compromise that mission.
Florida Carry works tirelessly toward striking down ill-conceived gun and weapons control laws that have been proven to provide safe havens to criminals and be deadly to law-abiding citizens.