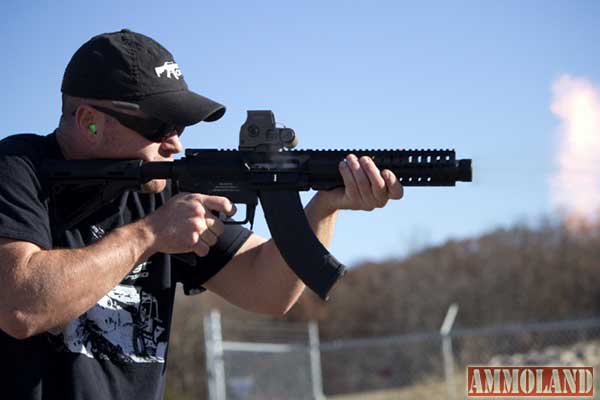 Iowa –-(Ammoland.com)- The big news from last week: the introduction of Senate File 108 (SF108). This bill would do away with Iowa's "offensive weapons" list and bring our state inline with federal gun law, aka the National Firearms Act. This bill expands on last year's suppressor bill, except it applies to all NFA items, and just like with suppressors, federal law would still apply.
As you can imagine anti-gunners are losing their minds over this bill, they're relying on the public's ignorance and fear of the words "machine gun" to gin up support for their gun control agenda. Do not let this go unanswered. Set the record straight about this bill anywhere you can.
NOTE: The Iowa Firearms Coalition is the only organization registered in favor of SF108. If you want the freedom to own SBRs, SBSs or full autos (if you're lucky enough to be able to afford one) make sure you're supporting those who are fighting to protect & enhance your freedoms. Also, as we mentioned last week with the Stand Your Ground and Privacy Protection bills, we expect to see multiple versions of the same bill introduced as the session goes on. IFC is in the capitol every day monitoring all of these.
We'll be updating you about which versions are best and which specific bills are advancing and which bills are dying.
Mistaken Matt McCoy
One week ago an astute Iowa Firearms Coalition member caught Senator Matt McCoy making false statements about Iowa gun law during a legislative forum. Reminder, McCoy is the same legislator who believes "no one should have a gun that can fire more than twelve times in a minute." We got our hands on a recording of the Senator repeatedly inserting his foot in his mouth about Stand Your Ground, Youth Shooting, hunting and the Second Amendment. Things like:
Senator Matt McCoy

"They have another bill, that, um… would allow children under the age of 12 to be able to fire semi-automatic or AK-47s…"
Just to set the record straight for Senator McCoy, Iowa law already allows kids to shoot long guns (including AK-47s) at any age. IFC is setting out to repeal Iowa's ban on supervised youth handgun shooting. We believe parents, not the state, should determine when it's appropriate to start teaching our kids true gun safety.
CLICK HERE to listen to Sen. McCoy spread his misinformation to a room full of his constituents.
Legislative Forums
If you're not at the table, you're on the menu.
We got our hands on that recording of Senator McCoy only because one of our members was actively seeking out his elected officials to talk face-to-face about pro-Second Amendment bills. Allow us to make this absolutely crystal clear, the very best way to get your elected officials to get serious about our bills is to get out and meet with your elected officials at their various forums and "Legislative Coffee" talks. Email or call your elected officials to see when they're holding public events and make it a point to get there and engage them. If you're not sure what to say, email us – [email protected] – ahead of time and we'll be happy to give you a couple of talking points!
Reminder
Mark your calendars for March 7th, the Iowa Firearms Coalition is hosting another Second Amendment Day in the Iowa Capitol. Be there or be square!
Finally, don't forget, we're rallying gun owners to help raise money for St. Jude's Children's Hospital and the fight to end childhood cancer. We have a St. Jude Donation Page set up on the website. Want to donate, but tight on cash? Why not donate a box of ammo, or a magazine or two? We'll raffle them off and send the money to St. Judes. 100% of the proceeds will be donated St. Jude's Children's Hospital.
Thank you for supporting the Iowa Firearms Coalition. More updates to come!
About Iowa Firearms Coalition:
Iowa Firearms Coalition is an entirely volunteer, grassroots, Second Amendment advocacy group. Responsible for bringing uniformity to Iowa's Permit to Carry process, IFC's members work to protect and enhance Second Amendment rights in Iowa. An affiliate of the National Rifle Association, the IFC actively seeks to foster and promote the shooting sports. Sign up for our email list for the latest on Second Amendment issues in Iowa.
You can support our work by becoming a member, or making a donation.