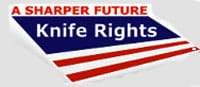 Gilbert, AZ –-(Ammoland.com)- While Knife Rights is proud to count many members of the NRA Board of Directors as our friends and supporters, Knife Rights does not normally endorse candidates in an NRA election.
However, we make an exception when they are members of our Board of Directors, Advisory Board or celebrity supporters.

Todd J. Rathner
Todd J. Rathner is Knife Rights' Director of Legislative Affairs–our lobbyist. He has been instrumental in our outstanding legislative success to date, totaling 22 pro-knife laws enacted in 15 states and 6 anti-knife bills defeated.
Todd's efforts in bringing Knife Rights' issues to the attention of the NRA Board and staff has been invaluable and it is certainly in our best interests to see him continue in this role. Beyond that, he works tirelessly in support of the Second Amendment.
Click for more info on Todd.
Graham Hill
Graham Hill is the Chairman of the NRA Legislative Policy and Federal Affairs Committees and is an advisor to Knife Rights on legislative issues in Congress.
His comprehensive understanding of, and insights into, what makes Congress tick and how to get things done on The Hill are extremely helpful to the NRA and to Knife Rights, particularly as we work to pass the Knife Owners' Protection Act including repeal of the Federal Switchblade Act (H.R. 84).
Graham's dedication to the Second Amendment is second to none and he deserves your vote.
Click for more info on Graham.
R. Lee (The Gunny) Ermey
R. Lee (The Gunny) Ermey has been a very vocal supporter of Knife Rights and takes every opportunity to promote Knife Rights as he travels the country making celebrity appearances. We very much appreciate The Gunny's active support for Knife Rights and a Sharper Future for all Americans as well as his unwavering commitment to defending the Second Amendment.
Knife Rights encourages our members who are also NRA voting members to vote for Todd, Graham and The Gunny and reminds you that NRA Board Election ballots must be received by the NRA no later than April 9, 2017.
About Knife Rights
Knife Rights (www.KnifeRights.org) is America's grassroots knife owners organization, forging a Sharper Future™ for all knife owners. Knife Rights is dedicated to providing knife owners an effective voice to influence public policy. In the past seven years, Knife Rights has passed pro-knife legislation repealing knife bans in 15 states and stopped anti-knife legislation in 6 states. Knife Rights also leads a federal civil rights lawsuit against New York City and the New York District Attorney over their persecution of knife owners. Knife Rights is the Second Front in Defense of the Second Amendment™. Become a Knife Rights member and make a contribution to support the fight for your knife rights. Visit www.KnifeRights.org