U.S.A. –-(Ammoland.com)- TRUGLO, Inc. introduces the all new TitaniumX family of performance broadheads. These mechanical and fixed-blade broadheads are available in for both compound bows and crossbows in several blade configurations.
TitaniumX Broadheads are CNC-machined from Grade-5 Titanium. The toughness of titanium demands a precision machining process that results in the most accurate and durable ferrules. The TRUCUT one-piece titanium tip cuts immediately on impact with devastating toughness. All models feature TRUTHRU .031" thick precision-sharpened stainless steel blades that are incredibly sharp and replaceable.
TRUGLO engineers teamed up with world-renowned broadhead designer, Bruce Barrie (former owner of Rocky Mountain Broadheads). Together they set out to build the toughest, sharpest and best shooting broadheads on the market. The narrow flight profile of these broadheads offers field-tip-like accuracy. Mechanical blade models include a large cutting diameter 2-blade model and a dual-stage 4-blade model. Torque-balancing blades expand to create massive wound channels. Fixed blade models include straight-flying 3-blade and 4-blade designs, each providing large cutting surfaces for maximum damage.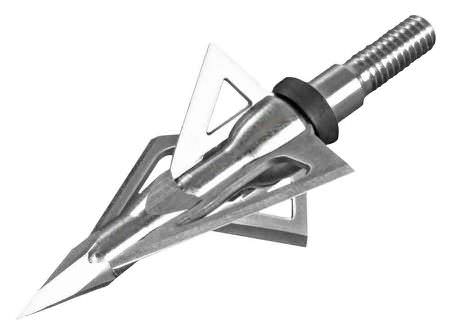 Crossbow-specific models (4-blade mechanical and 4-blade fixed) feature a larger machined ferrule that precisely matches modern crossbow bolt designs.
TRUTHRU replacement blades are included in the package, as well as sold separately. Each package also contains an installation tool. All models are shipping now, and are available through shooting sports retailers and at truglo.com.
TRUGLO TitaniumX Features:
Grade-5 Titanium CNC-machined ferrule
TRUCUT one-piece titanium tip for instant cut-on-impact
Tough 0.031" thick precision stainless steel blades
100 grains for optimum flight characteristics
Flies like a field point
Spin tested and sharpness tested
Mechanical models: 2-Blade, 4-Blade, 4-Blade Crossbow
Fixed-blade models: 3-Blade, 4-Blade, 4-Blade Crossbow
Each package contains TRU-THRU replacement blades and an installation tool
MSRP: $41 / set
For more information about TRUGLO products, visit www.truglo.com
About TRUGLO:
TRUGLO is the world's leading company in fiber-optic technology for the archery industry. Born through innovation, TRUGLO continually enhances the marketplace with advanced and revolutionary technology for shooters of all types. Based in Richardson, Texas, TRUGLO is a world-wide brand celebrating over 20 years of offering cutting-edge optics and equipment to shooters who are passionate about quality and clarity. Giving back to an industry they love, TRUGLO is involved with many conservation groups, youth programs, and organizations that promote the values they believe are necessary to guarantee the industry's future. TRUGLO — When Brightness Counts!
For more information, visit: www.truglo.com.