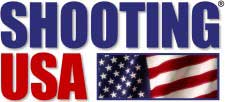 USA – (AmmoLand.com) – This time, it's gun racing on historic targets at the World Speed Shooting Championship. It's been 35 years since Mike and Mike drew up the first Steel Challenge on a napkin. Now it is a tradition and remains a challenge to the top shooters in the handgun sports. John Scoutten breaks down the action from California. And, for the first time, the Pistol Caliber Carbine is allowed to compete!
Then, the list is out from Colt! It's your first look at the new products that have just been unveiled at SHOT Show. First, there's the new double-action wheel gun, the Cobra. It's just one of a few new handguns. Colt is also producing a period-correct M16A1, which is likely to be a favorite among collectors. Tune in for the full line-up, only on Shooting USA on Outdoor Channel, and be sure to watch the preview!
AIR TIMES BY TIME ZONE
Eastern Time: Tuesday 3:00 PM; Wednesday 9:30PM, 1:00 AM
Central Time: Tuesday 2:00 PM; Wednesday 8:30 PM, Midnight
Mountain Time: Tuesday 1:00 PM; Wednesday 7:30 PM, 11:00 PM
Pacific Time: Tuesday Noon; Wednesday 6:30 PM, 10:00 PM
Shooting USA is listed as a one-hour show in your cable menu.
Time for SHOT
This week, our team will be running through miles of aisles at the SHOT Show in Las Vegas. Stay connected via social media for new Podcasts, new photos, and a behind-the-scenes look at the action from the convention center floor.
Stay Connected!
Be sure to "Like" Shooting USA on Facebook! "Follow" us on Instagram and YouTube too.
About Tier One Media, LLC: Tier One Media produces Television Properties under the registered trademarks Shooting USA and Shooting USA's Impossible Shots. The program series are seen weekly on two National Outdoor Category Networks, Outdoor Channel and Sportsman Channel with a combined reach exceeding 70-million US households. Tier One Media is a privately held, independent production company based in Franklin, Tenn. See more at http://www.shootingusa.com.