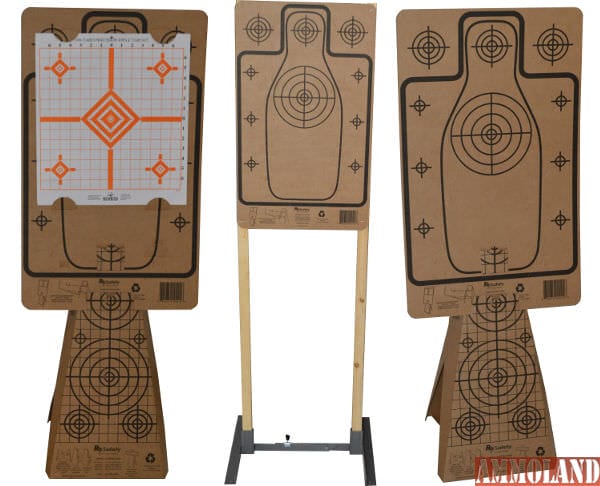 USA -(Ammoland.com)- Re-Nine Safety is announcing a new dealer special for Shot Show. New dealers will get 10 percent discount on orders through the end of February 2017.
We are also pleased to announce a new combo display for our Target Cones & Silhouette Targets. These two products work together forming a stand-alone target system or can be used as a target stand.
The new display box is designed to help stores maximize sales, manage inventory and increase add on sales of other products. This combo display makes better use of floor space than having multiple cases for different cardboard targets.
They include P.O.P. signage that has a proven track record of increasing in store sales.
Signage features the diversity of Re-Nine Safety Targets and how they work with other targets for add on sales. To help stores better manage inventory we are offering separate refill packs for Target Cones and for Silhouette Targets, so they can order what they need when it is needed.
All products also have printed UPC bar codes helping stores efficiently manage point of sale and inventory.
Re-Nine Safety Target Cones & Silhouette Targets include pre-printed targets and sign flaps that can hold a multitude of different targets and signs. Sign flaps on the targets allow you to use other targets in a variety of sizes, even after the pre-printed targets have been shot.
Self adhesive targets also allow continued shooting to maximize your use of the Target Cones and Silhouette Targets.
Target Cones can be used alone or with the Silhouette Targets attached to them. Re-Nine Safety Silhouette Targets can be
used with Target Cones or other target stands.
Re-Nine Safety has targets in stock in numerous gun and tactical shops. We are looking to expand this dealer network, to contact us please visit our website.
About Re-Nine Safety, LLC:
Our safety cones are primarily designed for temporary or one time use needs. They are ideal for locations where a return trip just to pick up cones may be avoided. This saves time and money especially with ever increasing fuel cost. They can also be used as temporary sign holders. We have also adapted the cone design as Target Cones. These work well as free standing targets and as target holders for other printed targets. With our Silhouette Targets we have developed a stand alone target system. The Silhouette Targets work with Target Cones and with other Target Stands and Target Hangers.
For more information, visit their website.