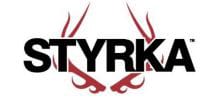 USA -(Ammoland.com)- For hunters and shooters, there's no better way to start the New Year than with a new Styrka optic-or two!
And Styrka makes this easier to do than ever with a series of instant rebates on a wide variety of Styrka binoculars, rifle scopes and spotting scopes.
The Styrka Instant Rebates starts January 2, 2017, and runs through Feb. 28, 2017.
Great savings on fine optics, including:
Receive $100 instant savings on Styrka S7 series binoculars, rifle scopes and spotting scopes.
Receive a $75 instant savings on Styrka S5 binoculars and S5 riflescopes.
The "instant" in the instant rebate means just that. When you buy your Styrka optics during the rebate period from an authorized Styrka retailer, the $100 or $75 is automatically deducted off the listed prices.
No messing around with receipts or rebate forms, postage stamps or snail mail. Real savings. Right Now!
See store or Styrka website for details and eligible products.
Like all Styrka optics, the binoculars, rifle scopes and spotting scopes included in these instant rebates are covered by the "Styrka Pride" warranty. If you ever have a problem with a Styrka optic, your optic will be fixed or replaced.
Forever. Plus, once a year, send in your Styrka optic and the company will clean and tune it as needed, all on Styrka's tab.
For more information, please visit their website.
About Styrka:
Launched in 2015, Styrka offers a dynamic line up of hunting scopes, binoculars, red dots and spotting scopes. The Styrka philosophy is simple but non-negotiable: make high quality optics at affordable prices; always tell your customers the truth about what optics can and can't do; and, stand behind your products 100-percent, forever. Styrka Pride. Styrka Strong.
To learn more about Styrka Optics, please visit their website.