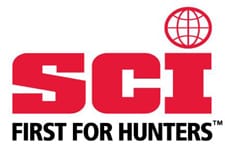 USA – -(Ammoland.com)- A few days ago one of our members suffered a nasty attack that started on social media.  It didn't stop there, however.  It involved threats, contacts at his place of business, and more.
As hunters we don't run and hide from the anti-hunters, but Safari Club International (SCI) wants you to have some guidance and tips from our pros on how to deal with this if it happens to you.
Knowing how to safeguard your information and privacy on social media is the key to effectively utilizing Facebook, Twitter, and other platforms.  In addition to spammers and identity thieves, our community is prone to attacks from an entirely different group of people – anti-hunters.
Time after time, we hear stories of anti-hunters attacking our fellow hunters on social media, solely for enjoying our favorite pastime and sharing memories.
To help take that target off you, spend a few minutes ensuring your social media profile has the appropriate privacy settings in place.  You can read our privacy setting suggestions here.  By taking these steps, you make it more difficult for non-Friends (such as anti-hunters or spammers) to view your profile or contact you.
In addition, be sure you aren't posting content online that will draw anti-hunters out of the woodwork.  For more information, read "Don't Get Hunted (Online)."
Even with proper precaution, it is still possible for anti-hunters to target you online. Don't engage with negative comments or attacks on social media; that will only fuel the fire and makes you more of a target.  Be sure to screenshot any threatening comments and save them, as you may need to document these attacks if you need to pursue further action.
You can also visit www.stopbullying.gov/laws to view anti-bullying laws in your state.  Most of us think of school students when the subject is bullying, but many of these statutes also apply to the brazen personal threats and attacks so carelessly launched by anti-hunting zealots.
As with this most recent incident, sometimes these attacks go beyond social media and make their way offline. Should you receive in person threats or if you fear anti-hunters intend to target your home or place of work, contact your local authorities immediately.  The safety of you and your close friends and family is always a priority.
Should these attacks escalate, there is a chance you could be contacted by the media.  We recommend that you do not respond immediately to any request for an interview.  If you feel that participating in an interview would be a good idea, please contact our Hunter Advocacy Department at (202) 609-8175 or by emailing [email protected] and we will help with interview preparation.  If the media contacts you with questions specifically about SCI, immediately refer them to Hunter Advocacy—it is not your responsibility to speak on behalf of the organization.  We can take care of that.
As always keep in mind these facts as you engage with the media:
You are in no way required to speak with them—you have a right to privacy
Anything you say can be printed or broadcast
You have no guaranteed protections once you agree to be interviewed
Often the media will try to paint a very disturbing picture of our favorite pastime, so take time to mention our efforts to support conservation and end poaching.  An example of the information that we have available about hunting and conservation can be found here.  This fact sheet is also an excellent resource to use when explaining our sport to non-media members of the community.  Should your boss or coworker confront you with concern, use these facts to explain our sport.   Feel free to contact us for more information at our
Hunter Advocacy office in DC for assistance in dealing with these kinds of attacks.  We are here to help.
If you will be attending SCI's Convention in Las Vegas this year, please be sure to attend Hunter Advocacy's seminar "Social Media: Best Practices for Hunters" on February 2 at 10:00 a.m.  This seminar will teach you how to enhance your social media knowledge while staying safe online.
Now that you're thinking about social media, be sure to visit our Facebook page and give us a LIKE!  You can search for "Safari Club International – SCI" or click here.
Safari Club International – First For Hunters is the leader in protecting the freedom to hunt and in promoting wildlife conservation worldwide. SCI's approximately 200 Chapters represent all 50 of the United States as well as 106 other countries. SCI's proactive leadership in a host of cooperative wildlife conservation, outdoor education and humanitarian programs, with the SCI Foundation and other conservation groups, research institutions and government agencies, empowers sportsmen to be contributing community members and participants in sound wildlife management and conservation. Visit the home page www.safariclub.org or call (520) 620-1220 for more information.