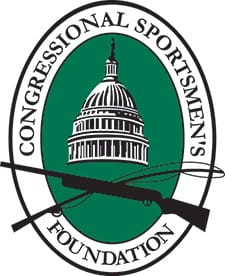 Washington, DC –-(Ammoland.com)- The Congressional Sportsmen's Foundation (CSF) welcomed new leadership as well as a new member to its Board of Directors this year.
CSF's newest Board member, John Nau, III, joins 28 other leaders from the sportsmen's community and allied industries, each of whom has made a commitment to CSF's mission of protecting and advancing hunting, angling, recreational shooting, and trapping.
Nau is Chairman and Chief Executive Officer of Silver Eagle Distributors, L.P., the nation's largest distributor of Anheuser-Busch products. Silver Eagle employs over 1,400 employees that serve 16 counties in Texas through operations in Houston, San Antonio, Conroe, Cypress, Pasadena, Rosenberg, Carrizo Springs and Del Rio. Nau is also an avid sportsman, and has a particular affinity for hunting blue quail and waterfowl in his home state of Texas.
In addition, the 2017 Board leadership includes Chairman Paul Miller (TechExec, Inc.), Vice-Chair Jason Hornady (Hornady Manufacturing), Secretary Pat Murray (Coastal Conservation Association), and Treasurer John Doerr (Pure Fishing).
"As an avid sportsman, I understand and appreciate the crucial work done by the Congressional Sportsmen's Foundation for our outdoor heritage and for conservation," said Miller. "I look forward to working with the Board and the CSF staff to help ensure the sportsman's voice is heard in the halls of government, both at the national and state level."
CSF would like to thank outgoing Chairman Mark DeYoung, CEO of Vista Outdoor Inc., and board member Walter McLallen, Managing Director of Meritage Capital Advisors, for their contributions to CSF over the past several years which have been instrumental to the success of the organization.
About Congressional Sportsmen's Foundation:
Since 1989, the Congressional Sportsmen's Foundation (CSF) has maintained a singleness of purpose that has guided the organization to become the most respected and trusted sportsmen's organization in the political arena. CSF's mission is to work with Congress, governors, and state legislatures to protect and advance hunting, angling, recreational shooting and trapping. The unique and collective force of the Congressional Sportsmen's Caucus (CSC), the Governors Sportsmen's Caucus (GSC) and the National Assembly of Sportsmen's Caucuses (NASC), working closely with CSF, and with the support of major hunting, angling, recreational shooting and trapping organizations, serves as an unprecedented network of pro-sportsmen elected officials that advance the interests of America's hunters and anglers.