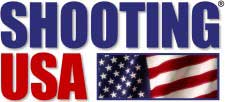 USA – (AmmoLand.com) – The GAP Grind Pro-Am opens one of the most intimidating competitions to new shooters. It's a long-range Precision Rifle Series, or PRS competition with John now considered an experienced Pro, helping a new shooter compete. The challenging match takes place at K&M Precision in Finger, Tennessee.
Plus, more than 600 juniors break a lot of clays at the SCTP National Championships, as two-time Olympic Gold Medalist Vincent Hancock makes an appearance to help train young shooters.
And, Japan's historic yet unreliable wheel gun in service for 50 years. The Type 26 revolver is now one of History's Guns. Tune in to Outdoor Channel!
AIR TIMES BY TIME ZONE
Eastern Time: Tuesday 3:00 PM; Wednesday 9:30PM, 1:00 AM
Central Time: Tuesday 2:00 PM; Wednesday 8:30 PM, Midnight
Mountain Time: Tuesday 1:00 PM; Wednesday 7:30 PM, 11:00 PM
Pacific Time: Tuesday Noon; Wednesday 6:30 PM, 10:00 PM
Shooting USA is listed as a one-hour show in your cable menu.
Stay Connected!
Be sure to "Like" Shooting USA on Facebook! "Follow" us on Instagram and YouTube too.
About Tier One Media, LLC: Tier One Media produces Television Properties under the registered trademarks Shooting USA and Shooting USA's Impossible Shots. The program series are seen weekly on two National Outdoor Category Networks, Outdoor Channel and Sportsman Channel with a combined reach exceeding 70-million US households. Tier One Media is a privately held, independent production company based in Franklin, Tenn. See more at http://www.shootingusa.com.