By David Tong
David gives AmmoLand readers a short history and review of the .458 Winchester Magnum cartridge.

USA –  -(Ammoland.com)- -(Ammoland.com)-While the British firm Kynoch, part of Imperial Chemical Industries, had a long history of supplying the very-well-heeled clients with "Flanged" (rimmed) cartridges for single-shot and double-rifles, as well as rimless cartridges for repeating rifles through the late 1940s.
It was Winchester who seized upon the opportunity to produce a new dangerous game round for their Model 70 bolt-action hunting rifle, essentially duplicating the power of the British "Express" rounds in a standard-length case.
The new round, the .458, was introduced with great fanfare in 1956. Claimed standard ballistics were a soft-point or solid (full-metal-jacket with steel insert) bullet of 500gr at 2,150fps. The round is essentially a straight-cased and shortened .375 H&H Magnum case, and its 2.5" overall length is better-suited than the .375's 2.85" is for a bolt-action rifle of reasonable size and weight.
The earliest use of the new round proved somewhat problematic. There were reports of the round not producing the speeds claimed, often leaving the muzzle at under 2,000fps. This was enough to negatively affect penetration, which is a must for a dangerous game rifle round. Some of this had to do because the stated ballistics were with a 26" barrel length, while most of the rifles used for this sort of work used 22"-24" barrel lengths for handiness.
Additionally, there were reports that the compressed charges of Olin Chemical's early ball powder were causing erratic ignition. While these issues were corrected by the early 1970s as Olin Chemical owned Winchester's ammunition brand and the firearm brand's manufacturing at the time, a certain negativity surrounded the round even though it was by far the most popular round in Africa due to a much-reduced cost of both rifle and ammunition compared to European offerings.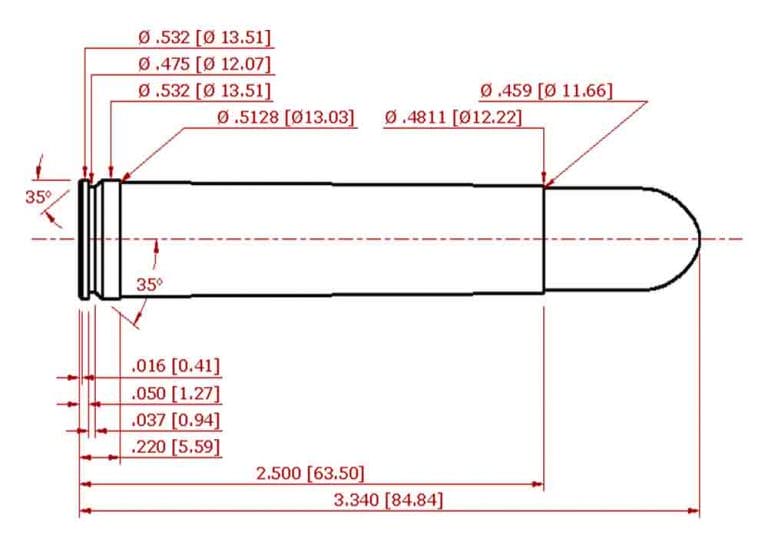 The round's ballistics were surpassed by the .458 Lott and .460 Weatherby Magnum cartridges pretty early on, with commensurately more recoil and cost, so the .458 remains the go-to choice for most hunters heading to the Dark Continent today for a so-called "heavy" caliber rifle suitable for the largest or most dangerous animals.
Most major manufacturers including Federal, Hornady, Norma, Remington and Winchester load the round, and most of them offer both a standard-grade load as well as a "premium" line with later-designed bullets that enhance both expansion and penetration.
In my own experience, I thought that the .458 was somewhat lighter and "slower" recoiling than the .416 Rigby Magnum, even in a slightly lighter rifle. The major issue for me though was that the Ruger M77 with non-controlled feeding (aka "push-feed") was not reliable in use with factory Federal Premium 510gr JSP bullets. The problem was that the extractor claw would push the round into the rear of the chamber at various points around the clock, and the soft-point would deform on the rear chamber edge and stop.
Obviously, this would not be a good state of affairs if one were to use this rifle and cartridge combination on an animal that could claw, gore, or stomp you, so my own recommendation would be to use ONLY a controlled-feed CZ 550, Mauser '98, Ruger Safari Magnum, Winchester Model 70, or similar action for its use. All of them are based on the 118-year-old Mauser action with its non-rotating long spring steel extractor, and nothing is better for the proper cycling and extraction of rounds from the usual non-detachable box magazine of a bolt-action rifle.
.458 Winchester Magnum Ammunition Hits Hard, Recoil That Is…
Recoil energy of the .458 is not for the faint of heart or recoil shy. It produces over 50 pounds of free recoil, despite its maximum operating pressure of only 53,000c.u.p. per SAAMI standards.
Thus, it recoils approximately three times as much as the venerable .30-06 and is overpowered for all North American game animals.
To this day, the . 458 Winchester Magnum remains the most cost effective caliber and rifle combination for the international hunter who pursues dangerous game. While relatively easy to reload and with a plethora of good aftermarket bullet choices from Barnes, Hornady, Sierra, and Speer, most hunters will use factory ammunition.
The round is commonly used at ranges under 100yds. and is certainly adequately accurate at this range. I've shot three-round cloverleaf groups at 100yd range from the bench, so if one did one's part, it will get the job done if it needs doing.
---
.458 Winchester Magnum Ammunition Videos: