U.S.A. –-(Ammoland.com)- A common question around here is "What custom gun does Bill Wilson carry"? There is no easy answer to that because Bill is always tweaking and developing new gun models.
At Wilson Combat the quest for defensive firearm perfection never ends, but we can say that this model is an exact clone of what Bill Wilson carries on most days in the office, around town, or at the ranch.
DESCRIPTION
Chambered in .45 ACP or 9mm, the Bill Wilson Carry II is a shooter's carry gun. This pistol makes it easy to hit your target accurately in all conditions and because of its concealable size, easy to carry on a daily basis.
Worn in Bill's preferred Lo-Profile II outside the waistband holster this gun practically disappears under a vest or light shirt. From the compact X-Tac grip frame to the lightweight integral light rail and gold bead sight, this gun is exactly how Bill currently options his daily carry pistols.
The only available options on this model are your choice of Armor Tuff finish color, front sight, single or ambidextrous safety and an optional magwell. No other custom options are available at the time of order/sale or will be performed after the sale by Wilson Combat.
Bill Wilson Carry II Pistol
Available Calibers: .45 ACP, 9mm
Magazine Capacity: 7 rounds (.45 ACP)
Barrel Length: 4"
Overall Length: 7.6"
Sight Radius: 5.6"
Height: 5.1"
Width: 1.3"
Weight Empty: 29.63 oz
Weight Loaded: 34.94 oz
Accuracy Guarantee: 1.5" at 25 yds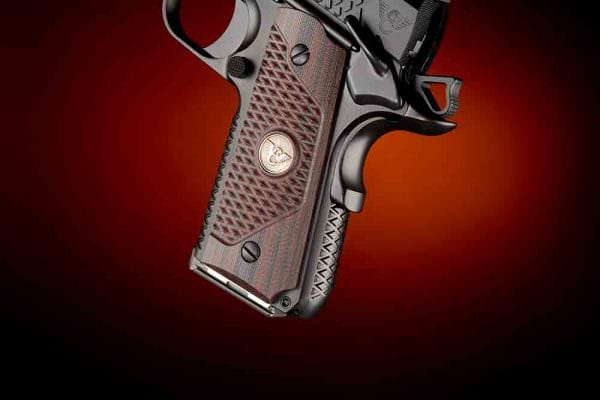 About Wilson Combat:
Since 1977 Wilson Combat has been the leading innovator in high-performance, custom 1911 handguns, tactical long guns and accessories. A Wilson Combat product's unmatched level of exceptional reliability and peerless craftsmanship is only equaled by our legendary customer service. Learn more about them on their website.