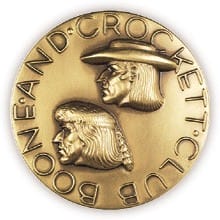 MISSOULA, Mont. -(Ammoland.com)- Boone and Crockett Club recently matched a $2,000 grant from the National Shooting Sports Foundation (NSSF) awarded to the Montana Council of Boy Scouts of America (BSA).
The $4,000 total will be used to help support the shooting sports program at Montana High Adventure Base (MOHAB) and throughout the Montana Council BSA by providing safe and up-to-date equipment.
For the past six years, NSSF has provided funds to local BSA Councils through its BSA Council Challenge Grant program.
The grants awarded are to reflect planning to strengthen and increase BSA Council activities in shooting sports and commitment to the advancement of knowledge and understanding of shooting sports activites and firearms safety.
The NSSF believes that learning proper skills and safety techniques at an early age often results in a lifetime interest in shooting sports and the outdoors.
This year, NSSF is providing a total of $100,000 to qualifying BSA Councils. Of this amount, the first 50 qualifying grant applicants were eligible to receive up to a maximum of $2,000 in matching grant funding from the NSSF. Boone and Crockett Club stepped in to double that amount with $2,000 to help offset the costs of the local council's shooting program.
"By being awarded this grant we will be able to very cost-effectively increase the time spent and number of rounds fired at our Palmer Shooting Sports Complex while continuing to teach firearm safety, marksmanship, hunting and shooting sports skills," said Luke Coccoli, the Club's conservation programs manager. "The receipt of this grant will undoubtedly benefit the youth that attend our camps and ultimately promote, protect and preserve one of the healthiest pastimes available, shooting sports."
The Montana Council BSA was founded in 1973 with the merging of four Western councils. There are four Montana Council camps−K-M Scout Ranch, Arcola, Melita Island and Grizzly Base.
In addition, the council operates the MOHAB in partnership with the Boone and Crockett Club at the Clubs' Theodore Roosevelt Memorial Ranch, located on Montana's Rocky Mountain Front.
MOHAB is the nation's premier wilderness expedition training and instruction program for youth interested in shooting sports, pack rafting and the outdoors.
"Boone and Crockett Club is honored to provide the matching funds to help inspire a love of the outdoors," said B. B. (Ben) Hollingsworth, Jr., Boone and Crockett Club president. "The future of wildlife and habitat conservation is closely tied to the future of hunting, shooting and outdoor adventures. These futures lie with our youth and it's our duty to help guide this generation to ensure these essential traditions continue."
About the Boone and Crockett Club:
Founded by Theodore Roosevelt in 1887, the Boone and Crockett Club promotes guardianship and visionary management of big game and associated wildlife in North America. The Club maintains the highest standards of fair chase sportsmanship and habitat stewardship. Member accomplishments include enlarging and protecting Yellowstone and establishing Glacier and Denali national parks, founding the U.S. Forest Service, National Park Service and National Wildlife Refuge System, fostering the Pittman-Robertson and Lacey Acts, creating the Federal Duck Stamp program, and developing the cornerstones of modern game laws. The Boone and Crockett Club is headquartered in Missoula, Montana.
For details, visit their website.