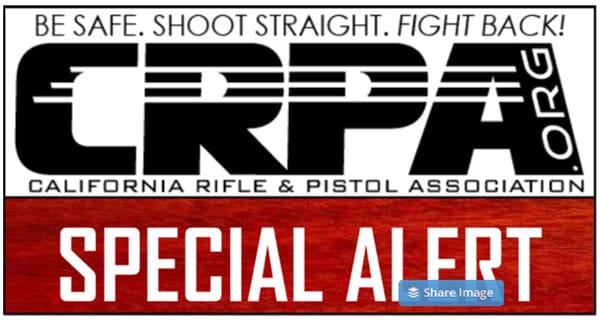 California – -(Ammoland.com)- At California Rifle & Pistol Association we have updated our California Legal Affairs Report, which highlights the many regulatory battles with the California Department of Justice, hunting policy debates, range and gun owner assistance efforts.
This report provides an overview of just some of the efforts the National Rifle Association of America and the California Rifle & Pistol Association, Inc., are taking to protect the rights of California gun owners .
Although litigation plays an extremely important role in the fight for the right to keep and bear arms , NRA and CRPA are heavily involved in many other tremendous and equally important endeavors throughout California and across the nation.
As has been and always will be the case, NRA and CRPA invest enormous amounts of resources to protect the Second Amendment at all levels of California's government , including all 58 counties , all 482 municipalities, and all state and local agencies tasked with enforcing the myriad of complex and ever expanding state and local gun laws.
For more updates on what is going on in Sacramento, the courts and throughout California, please visit CRPA.org.
If you would like to make a donation to The CRPA Foundation to help our fight in the court to preserve your Second Amendment rights in California, please click here.
About California Rifle & Pistol Association
The California Rifle & Pistol Association (CRPA), founded in 1875, is a nonprofit 501 (c)(4) membership and donor supported organization. CRPA employs staff in Fullerton and Sacramento, works with hundreds of volunteers across the state, and is controlled by an independent Board of Directors. Some of CRPA's non-profit efforts are funded through CRPA's sister organization, the CRPA Foundation (CRPAF). CRPAF is a 501(c)(3) organization, so contributions to the CRPAF are tax deductible.
All dues and donations to CRPA and CRPAF are spent to specifically benefit California gun owners. CRPA works relentlessly in California to defend your constitutional right to keep and bear arms. Your CRPA membership dues and donations help CRPA to fight for your right to choose to responsibly own and use firearms for hunting, sport, or to defend yourself and your family.
CRPA has tens of thousands of members who represent a diverse cross-section of the general public. CRPA members include civil rights activists, competitive and recreational shooters, hunters, youth, women, police, firearm experts and trainers, and loving parents.
CRPA is proud to be the official state association of the National Rifle Association (NRA). CRPA works with the NRA as a team in California. CRPA and NRA complement and enhance each other's ongoing efforts to fight for your rights in Sacramento, in cities and counties across the state, in regulatory agencieas, and in the courts. By working together, CRPA and NRA multiply their effectiveness, accomplishing more by working together on your behalf than either could accomplish working alone or separately in California.