By Doug Gilmer
Doug's answer to can you hunt with a handgun? Heck Yeah you can. I love handgun hunting…

USA –  -(Ammoland.com)- It's no secret I love to hunt with a handgun. I killed my first deer with a handgun in 1995, on the ground, spot and stalk.
It wasn't a huge buck, a five-point, but I had to work hard for that deer. Its mount hangs in my office to this day and remains one of my fondest hunting memories and greatest "trophies".
From that point on I was hooked and i would become a handgun hunter. Since then I've taken the handgun hunting challenge around the U.S., from Maine to Alaska.
Can You Hunt With A Handgun? The simple answer is yes, all across the USA states allow you to hunt for a variety of game with a pistol or hand gun.
But why hunt with a handgun? Handgun hunting for me is appealing because it is so much like bow hunting. Unless you are shooting a specialty pistol chambered in a rifle caliber, it is a short range game. While I appreciate the skills some shooters have to shoot game a half mile away, this is not that type of hunting I enjoy. I prefer using the skills needed to get close to the game I hunt. I seldom hunt from tree stand, partly because I enjoy still hunting and partly because I most often hunt alone and in an area with no cell phone service. If I have a tree stand accident (even though I always wear a harness) I cannot call for help.
Whether you hunt on the ground or in a stand, having both hands free and not having to hoist a rifle up to your perch on a rope makes life easier. It is easier to move through the woods if both hands are free and you don't have to worry about your barrel snagging on branches.\
Some states, such as Delaware, have specific seasons for handgun hunters, extending your time in the woods. As with bow hunting, you become a better hunter. In a tree or on the ground you have to much more conscious of scent, wind direction, movement, and noise.
I won't go into the woods without first having thoroughly checked the forecast, a wind-checker in my pocket and a compass around my neck.
This type of hunting has definitely improved my woodsmanship skills over the years.
Handgun Hunting Challenges
Handgun hunting is a challenge. Not only are shots close but like with a bow, being efficient takes practice. Since practice involves shooting a handgun, practice is fun. Handgunning is a perishable skill; you owe it to yourself and the game you hunt to be proficient enough to put the bullet where it belongs for an ethical kill. In addition to providing a shooting challenge, handgun hunting presents mental challenges as well.
You will question your ability, confidence, and be tempted to give up in lieu of an easier way, especially when that big buck hangs up just out of range, at the end of your range, or when all the game you see is far out of range.
Pistol Hunting Gear
Handgun hunting makes you more knowledgeable about the gear you hunt with. A handgun hunter must know the ballistic characteristics of the gun and ammunition they hunt with. This information must also be matched with characteristics of the game being hunted. Whereas a bullet designed for varmint or predator hunting from a rifle is not typically adequate for hunting big game, a handgun bullet designed for self-defense may not be adequate for hunting big game either. Bullet construction is important.
Traditional handguns and handgun cartridges do not deliver the ballistic qualities one gets from a rifle. Cases and barrels are shorter, meaning less powder and less velocity potential. Bullets do not have the sectional density and ballistic coefficients as their centerfire rifle counterparts. They do not typically deliver the energy numbers one would expect from their deer or elk rifles and calibers. A handgun hunter needs to understand this, bullet construction and performance to make a determination on what is going to work best. There is some study and plenty of practice involved in order to be effective and efficient.
Handgun hunting doesn't need to be expensive. While there are specialty and custom handguns on the market costing thousands of dollars and adequate hunting handgun can be picked up at most gun shows for far less then you might think. There are many reliable, used handguns able to serve you well in the woods. Almost all of my hunting handguns have been purchased used. With some time and patience, a reliable, accurate handgun hunting package, albeit a basic one, can be purchased in the $400-$500 range, including the gun, holster, practice and hunting ammo. I suspect, many readers already own a handgun able to pull double duty in the woods with the right ammunition.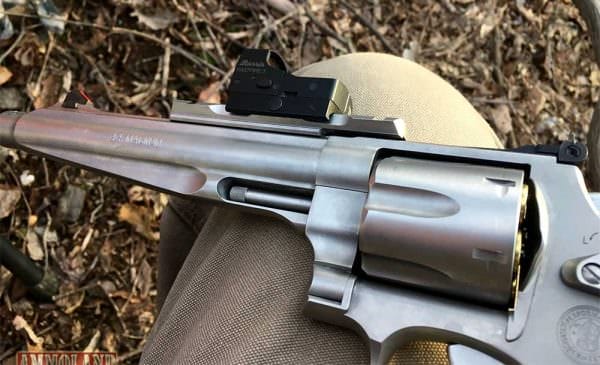 In future articles in this series of handgun hunting articles for Ammoland I will cover the following topics:
Handgun selection
Ammunition choice
Sights and optics systems
Practice strategies to make you a better shooter
Handgun hunting accessories
Handgun hunting tactics.
By the time we work our way through this series, hopefully you will have enough information to decide if handgun hunting is something you want to do and you will have the information you need to make smart equipment choices and the knowledge to prepare well ahead of next season.  Say tuned for more…
About Doug Gilmer,
Building on his over 20 years of law enforcement and military experience, Doug began writing law enforcement and tactical articles as a way to break into the outdoor market. Today, Doug is published in Grand View Media. He also provides content to a number of other traditional print and digital publications. As a professor of Adventure and Outdoor Leadership at Liberty University, Doug is a mentor to dozens of students each year. He's also a frequent seminar and conference speaker and author of Backcountry Devotions. Also known as the Backcountry Chaplain, Doug and his family make their home in northern Virginia.