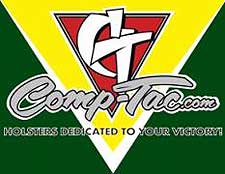 HOUSTON, Texas –-(Ammoland.com)- Comp-Tac Victory Gear, the top holster choice for IDPA members in competition and concealed carry for the last 5 years, announces the completed purchase of a new manufacturing facility.
Comp-Tac's new 12,000 square foot facility will include 8,000 sq feet for manufacturing and 4,000 square feet of office space. The larger facility will provide for increases in manufacturing capacity to keep up with the growing demand for product. It will also allow for the expansion and diversification into new products and business models including OEM capabilities.
In response to customer's demands, the new facility includes a customer service showroom. Customers will be able to visit Comp-Tac to discus holster questions, place/pick up orders and other customer service needs. The building will also be home to a brand new media and marketing communications center. This will allow for Comp-Tac the ability to keep our customers up to date on new products.
"Over the years Comp-Tac has always dedicated itself to managing our growth, production and customers service business divisions to maximize our company from every angle. Comp-Tac's dedication to helping individuals be prepared for all situations in providing quality holsters and accessories has led to us outgrowing our current facility," Explained Gordon Carrell General Manager of Comp-Tac.
"We are looking forward to the opportunities that our new facility will let us accomplish in product development, diversification, manufacturing and customer service. Our company would not have been able to do this without the great work of every employee and the support of each and every one of our customers. Thank you for the ability to continue serving you," commented Gregg Garrett Owner and President of Comp-Tac.
About Comp-Tac Victory Gear, LLC
Comp-Tac Victory Gear, LLC combines experience in personal protection and tactical applications combined with the love of pistol shooting competitions into every product they develop. Comp-Tac strives to deliver high value, quality solutions and improvements at the best price. With satisfaction a top priority, we ensure speed, quality and superior customer service to support your desire to take responsibility for personal safety, security and recreational firearm use.