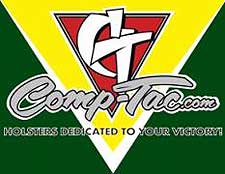 HOUSTON, Texas – -(Ammoland.com)- Comp-Tac Victory Gear, a leading provider of concealed carry and competition holsters, is seeking to hire a Sales Manager.
The Sales Manager is responsible for generating sales and gross profit for the company by optimizing current markets in North America and developing new domestic and other markets. The Sales Manager is responsible for growth of the brands through multiple channels, management of internal and external sales staff, assigned trade shows and assisting in new product development. The Sales Manager will report directly to the General Manager. The Sales Manager will be required to produce a variety of reports, forecasts, sales programs and other plans as required. Comp-Tac Victory Gear, LLC is a LEAN organization. The ability to work in a LEAN environment and relocation to Houston, Texas is required.
If you wish to apply, you must meet the following requirements:
Five or more years of experience in the outdoor/firearms industry, be aggressive, goal oriented and look to become an integral part of the upper management team
Ability to work with multiple departments; marketing, production, shipping etc. to accomplish established company goals
An interest in handguns, competitive shooting and concealed carry
Experience in management of sales teams and customer service functions
Ability to critically think and operate in a high paced environment
Excellent communication skills
Proficient computer skills in MS Office Suite- Word, Excel and Outlook
Comp-Tac Victory Gear, LLC, is a privately owned company offering an excellent benefits package.
Benefits Include:
Medical/Dental/Vision Insurance
Life Insurance
Paid holidays & vacation
401(K) plan with a 4% match
Employee Assistance Programs
Candidates may submit their resume and salary requirements via email to [email protected]
About Comp-Tac Victory Gear, LLC
Comp-Tac Victory Gear, LLC combines experience in personal protection and tactical applications combined with the love of pistol shooting competitions into every product they develop. Comp-Tac strives to deliver high value, quality solutions and improvements at the best price. With satisfaction a top priority, we ensure speed, quality and superior customer service to support your desire to take responsibility for personal safety, security and recreational firearm use.