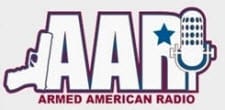 USA – -(Ammoland.com)- This week on Armed American Radio with Mark Walters we feature a national powerhouse of radio programming.
Host Mark Walters speaks to Alan Gottleib, founder of the Second Amendment Foundation and the Citizens Committee for the Right to Keep and Bear Arms. As a board member of the CCRKBA himself, Mark and Alan always bring compelling conversation to the listener.
And this weekend was no different. Alan discussed in detail, the impact of the 4th Circuit Court of Appeals ruling regarding the MD "assault" weapons ban. Of course the court upheld the MD ban stating that AR-15's are not protected by the 2nd amendment and used the Heller decision to justify its decision. Alan poked holes in the ruling.
Other topics included the the SAF latest initiative, Black Robes Matter and other local issues from across the country.
Following Alan in hour 2, Mark brought listener emails and NY Times best-seller and Fox News Columnist, Dr. John Lott to the program. In his usual style, Lott debunked the myths that America suffers from the highest gun violence rates in the "advanced" world and used the numbers of France v USA through 2015 to prove his case.
Hour 3 saw Dave Workman and Mark banter back and forth over the 4th Circuit ruling, WA State initiatives and the case of independent videographer, Mike Strickland, now facing 21 felonies and a sentencing hearing in May where he stares down the barrel of 50 years in prison from a liberal, gun-hating Portland, Oregon judge…for simply using a firearm to defend himself without ever pulling the trigger. Mike faced down an unruly Black Lives Matter mob that approached him and taunted him, making verbal threats.
Armed American Radio, three hours of the best 2A, self-defense, and entertainment for America's law abiding, responsibly armed Americans!
Hour 1:
Hour 2:
Hour 3:
About Armed American Radio: 
Armed American Radio is one of the fastest growing, nationally syndicated, radio programs in America. Heading into his 9th year on national radio, host Mark Walters educates, informs and entertains millions of responsibly armed Americans, six days per week. Make sure to visit www.armedamericanradio.com to listen live or find a station near you.