By John Crump
John reviews the GunBox 2.0 gun storage system, that claims to be the first truly smart bio-metric firearm safe.
U.S.A. –-(Ammoland.com)- I have a little handgun safe in my bedroom. It is an older combination safe. I have steered clear of the newer biometric handgun safes because I have not found one that I haven't been able to break into with at least two methods within 15 seconds.
I am not going to go into the weakness that all biometrics safes I have tested have in common. The first method was highlighted at the DEFCON security conference several years ago so the information is everywhere. The second method is all over youtube.
I was surfing Facebook one day and saw an advertisement for a biometric safe called the Gunbox 2.0. Gunbox claims to be the most advanced handgun safe on the market. This peaked my interest. I wanted to see if I could get into it by using the usual exploits. So far I have haven't been able to find one that were absent of these built in flaws.
It was time to go ahead and get one. The first thing I noticed before I even ordered it was the price. It is expensive. It runs 2 to 3 times higher of the cost of other biometric safes that are on the market. I would come to find out though that there is really nothing comparable to it on the market. It is truly a smart handgun safe. It is also much more than just a handgun safe, but I am getting a little ahead of myself.
The Gun Box 2 is available in 6 colors. I went with the billet gray option, but they all looked great to me. The Gun Box 2 is made of solid aircraft aluminum. There is also an option to get the GunBox 2.0 without biometrics, but since I wanted to test out the weaknesses to see if it had the same ones that a lot of other biometrics handgun safes have I went with the one with biometric option.
This way I can see how much design went into this handgun safe, or see if they just copied other handgun safes on the market. I would come to find out that it was designed from the ground up.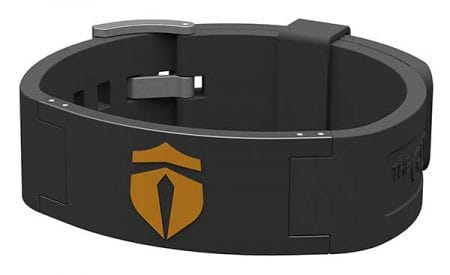 When the GunBox 2.0 arrived it was in a huge white box. I opened the box to find the GunBox 2.0 in the middle of a foam cut out. Also in the box was two credit card size key cards that can unlock the box like a key card a lot of companies use. Using RFID these cards will open the handgun safe. This makes opening the Gun Box 2 quick and easy.
Also inside the box is two RFID key fobs that will also open the Gun Box 2. This gives you a second way of accessing your firearm. There are other RFID devices that can be ordered with the GunBox 2.0. On their website, you can add a RFID wrist band and even a RFID ring to open the handgun safe. This eliminates the need to do anything other than touching the sensor.
If you don't want to use the RFID method to open the GunBox 2.0 you can easily use your fingerprint. This is the one thing that had worried the most. As I said before I haven't been able to find a biometric handgun safe yet that I haven't been able to defeat in seconds. By just looking at it I could see my first method I have used wouldn't work on this handgun safe.
I programmed my fingerprint by following the simple instructions included with the GunBox 2.0. I then decided to try my second hack method. Over and over again I tried and it didn't work. This was the first biometric handgun safe I couldn't defeat by using these methods.
GunBox 2.0 and Your Phone
There is another way to access the GunBox 2.0. It can be opened by using your phone. The GunBox 2.0 has built in Bluetooth. Simply download their app from either the App Store or Google Play and now you can open the Gun Box 2 with a simple push of a button. At first the Bluetooth thing worried me because I knew an exploit for the older versions of Bluetooth and was worried if the GunBox 2.0 had an older version I would be able to exploit that method and open the handgun safe.
I am happy to report that this was not the case. The exploit failed.
The way the GunBox 2.0 opens is well thought out. There are two hydraulic arms that open the box when unlocked. It feels like a device out of Star Trek or James Bond. When you close the handgun safe all you need to do is push down the top, and it locks in place. I found it to be a simple yet cool feature.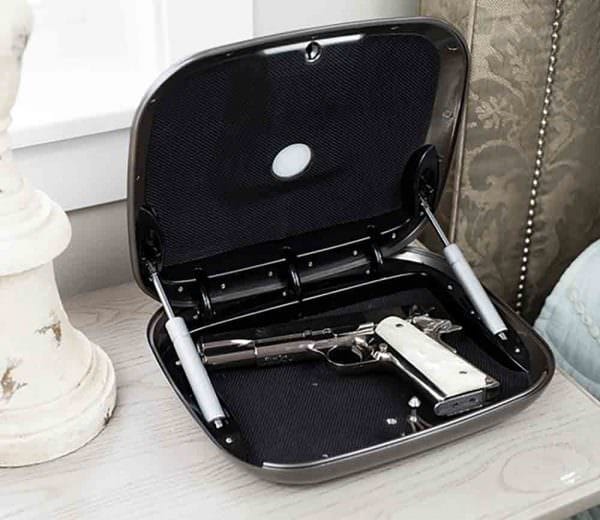 The Gun Box 2.0 has a rubberized floor to prevent damage to your firearm. It has room for a single firearm. It will fit a full size 1911 with no problem. In my case I used it for my Glock 17 with my light. This is my go to home defense pistol so being able to access it fairly quickly is paramount for me. There is also an internal LED light that is great in the middle of the night when you need to retrieve your firearm.
The Gun Box 2 also has a motion sensor. If it is moved or bumped there is an audible alarm. Being a father of small children this adds an extra level of safety that gives me peace of mind. This feature can be enabled or disabled via the app. It can also be secured with a cable or predrilled holes. The cable is an addon that will cost you a little extra.
100 Plus Fingerprints in Gun Box Two
The Gun Box 2 has the ability to store up to 100 fingerprints. This is great because my wife and I can both can have access to my Glock 17 with a simple touch of either of our fingers. You can also use this to register multiple fingers so it wouldn't matter what finger was used. I will never use all 100 spaces, but it is nice to have.
There is no need in buying batteries for the Gun Box 2. It comes with a built-in rechargeable battery. This battery, when fully charged, can last up to a year according to the Gun Box 2 website. When I first received my Gun Box 2 I let it charge overnight. I like the idea of having a built-in battery since I don't ever have to run to the store to pick up batteries.
The Gun Box 2 is also TSA and FAA compliant. This means it can be checked in to be taken on planes when you are traveling. This is very nice because I like to travel with my gun and I also store things such as passports and money when I get to my hotel room, and I can use the additional cable to further secure it.
It is a sexy handgun safe. My other handguns safes look like handgun safes. The Gun Box 2 looks like a work of art. It's beauty speaks for itself. Gun Box gets it. It is OK to be both functional and stylish. You don't have to give up one for the other. Looking at their other products that idea is carried through their whole line.
Overall I am very impressed.The Gun Box 2 might seem expensive, but for what you get it is a bargain.
You get what you pay for. I wanted a sleek sexy handgun safe that was secure and dependable and that is what I got. Gun Box hit it out of the park with this one.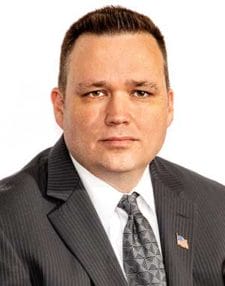 The Gun Box can be purchased at www.thegunbox.com.
About John Crump:
John is a NRA instructor and a constitutional activist. He is the former CEO of Veritas Firearms, LLC and is the co-host of The Patriot News Podcast which can be found at www.blogtalkradio.com/patriotnews. John has written extensively on the patriot movement including 3%'ers, Oath Keepers, and Militias. In addition to the Patriot movement, John has written about firearms, interviewed people of all walks of life, and The Constitution. John lives in Northern Virginia with his wife and sons and is currently working on a book on the history of the patriot movement and can be followed on Twitter at @crumpyss or at www.crumpy.com.