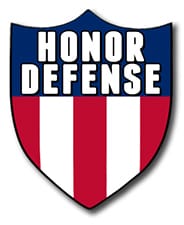 Fresno –-(Ammoland.com)- Honor Defense is pleased to announce that Honor Guard 9mm pistols have been tested and approved by the Fresno Police Department.
Fresno Police Officers are now able to select the Honor Guard 9mm pistol as their back up or off-duty gun of choice.
"We are honored and privileged that Fresno Police Department approved Honor Defense firearms. The approved weapons are the same models available to consumers as well. As a single-stack 9mm pistol with superior ergonomic features, the Honor Guard provides Officers with maximum performance. Worth noting that Honor Defense is the only American company making a single stack 9mm with a modular stainless steel chassis. Grips are available in 3 different sizes and barrels are available in two different lengths" quoted Gary Ramey – President of Honor Defense.

Ramey added "We are particularly pleased as the Fresno Police Department personnel and Regional Training Center are among the finest in the nation. I was fortunate to attend the Fresno Regional Training Center grand opening years ago, their personnel and facilities are world class."

Chief Jerry Dyer quoted, "The Fresno Police Department is dedicated to reaching the highest standards of professionalism through policies, procedures, training and technology. The Fresno Police Department is also proud to provide the California public safety community with a state-of-the-art training center like no other. The RTC covers almost 80 acres and features "smart" classrooms, seven firearms ranges (including a 200-yard rifle range), a 3-story tactical training house, sniper tower, Emergency Vehicle Operations Course, mat room, driving and force options simulators. In addition, they have a comprehensive instruction schedule at their facility as well. We offer specialized courses in driving, firearms, arrest & control/defensive tactics, force options & driving simulators, and more. We are pleased to have tested and added Honor Defense for use."
More information on Fresno Regional Training Center can be found at www.fresnopolice.net, or by contacting the facility at 559-621-2157.
For more information, visit their website at www.honordefense.com, or contact Honor Defense at 678-943-8035.
About Honor Defense:
Honor Defense firearms represent the next generation of modular handguns. Honor Defense firearms have more features than any other sub-compact pistol. Every part is manufactured in the U.S.A. to our highest standards. You can't buy a better pistol right out of the box. To create their pistols, Honor Defense secured input from a panel of professionals that have defended our nation or have extensive credentials in self-defense training.
For more information, please visit HONORDEFENSE.COM