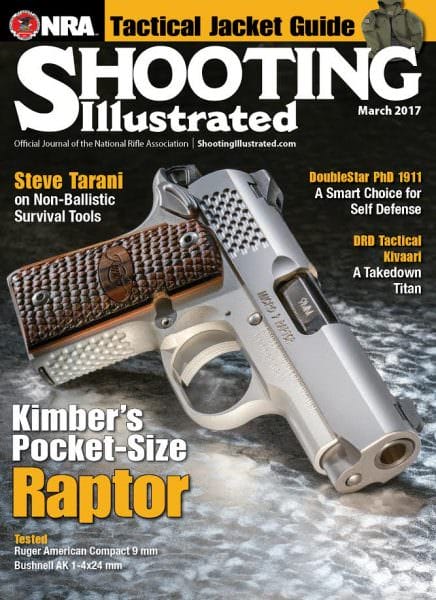 USA -(Ammoland.com)- NRA members who receive Shooting Illustrated as their magazine will learn all about the new Kimber Micro 9 Raptor, a single-action offering from Kimber's custom shop, in the March issue.
Offering 9 mm versatility in a size normally associated with .380 ACP, the Micro 9 offers power that fits in a pocket. While miniature handguns in full-power chamberings can often be punishing, the Micro 9 Raptor has a host of smart upgrades that make it easy to shoot—and shoot well.
If the 1911 platform is your thing, but you prefer the Government size, Doublestar's PhD might be just the thing. With upgraded components from luminaries like Wilson Combat, Ed Brown and Cylinder & Slide, the PhD gives an education in quality, at a price that won't make you think about taking out student loans. Handgun Editor Tamara Keel puts this pistol through her scholarly paces—learn what she thinks of the PhD.
Many consider the .45 ACP to be the pinnacle of handgun power, but when it comes to rifles, few dispute the mighty .338 Lapua Mag. as one of the most potent offerings not ending in "BMG."
Typically, though, rifles chambered in this meaty caliber are sized accordingly, and rather difficult to transport in anything smaller than a pickup truck or van.
However, DRD Tactical offers the Kivaari (Finnish for rifle), which takes down quickly and fits in a case smaller than typical AR-15 carbine cases. Think a takedown rifle won't hold up to steady use? You might think differently after reading Gary Paul Johnston's review of the Kivaari.
No matter if you're shooting rifles or pistols, you'll benefit from a solid coat to protect you from the elements. Shooting Illustrated gathered nine offerings that span lightweight, waterproof shells to complete cold-weather protection, all designed with concealed carry in mind.
If you've been thinking about a new jacket, you'll benefit from our tactical-jacket roundup, which covers brands such as 5.11 Tactical, Blackhawk, SCOTTeVEST, Tru-Spec and others.
If you enjoyed Shooting Illustrated on the newsstand and wish to continue reading the magazine, you'll need to sign up for an NRA membership.
If you are already a member, you can change your magazine selection today online at nra.org (https://home.nra.org/) or via telephone by calling (877) NRA-2000. Alternatively, you can add Shooting Illustrated to your existing membership for $9.95 per year.
For more information: visit their website, call Editor-in-Chief Ed Friedman at (703) 267-1331 or e-mail [email protected]