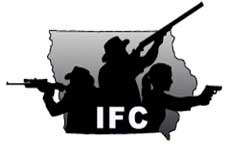 Iowa –-(Ammoland.com)- The Des Moines Register just released their latest Iowa Poll about Stand Your Ground legislation. Here's their findings:
54% support Stand Your Ground
36% oppose Stand Your Ground
10% are unsure about Stand Your Ground
The poll, conducted by the widely respected Selzer & Company, was taken between February 6th and 9th and has a 3.5% plus or minus margin of error.
What does this mean?
It means Iowans want Stand Your Ground and no matter how you slice it there's no way to deny that there are more Iowans who want and support Stand Your Ground law than there are who oppose or are even unsure about this law. If this were a presidential election and a candidate won by an 18 point margin it'd be called an historic landslide victory.
Of course, IFC members have been saying this for YEARS since we first introduced the first Stand Your Ground bill in Iowa back in 2012. This latest Iowa Poll just confirms everything we've been saying.
Friends, do not let this poll go unnoticed. Spread it far and wide.
What's the latest on HSB133?
Last week HSB133 passed a three person subcommittee in the Iowa House of Representatives' Judiciary Committee. It now awaits a vote in the full House Judiciary Committee. In order for HSB133 to remain viable it must pass out of the House Judiciary Committee by the end of the day this Friday, March 3rd (the first funnel date of the year).
We have no reason to believe this will be a problem but as always, IFC will alert you whenever legislative action on HSB133 is scheduled.
What are we up against?
When HSB133 passed its subcommittee the Iowa Firearms Coalition, the National Rifle Association and ABATE of Iowa were the only organizations to speak out in favor of the bill. The opposition is rallying as many vocal opponents as possible to try to give the perception that Iowans don't want HSB133 passed. If you look at who's registering For or Against the bill you'll soon discover that we're pretty much all alone, which is why it's so important that you stay engaged on this one. Here's a break down of who's registered as working for and against HSB133:
Registered FOR HSB133 Registered AGAINST HSB133
Iowa Firearms Coalition
National Rifle Association
ABATE of Iowa
Registered AGAINST HSB133
League of Women Voters of Iowa
Broadlawns Medical Center
Episcopal Diocese of Iowa
Iowa Valley Community College
Iowa State Bar Association
American Civil Liberties Union of Iowa
Iowa Association of Community College Trustees
Iowa Central Community College
Iowa Catholic Conference
Indian Hills Community College
Iowa Association of School Boards
American Academy of Pediatrics – Iowa Chapter
Board of Regents – State of Iowa
Iowa Hospital Association
Blank Childrens Hospital
Iowa Annual Conference of United Methodist Churches
Iowans for Gun Safety
If you have a connection to any of the groups on this list please reach out to them and explain that you support HSB133 and they should too.
Thin Blue Line Rifle Benefits Iowa COPS
Last night Iowa COPS (Concerns of Police Survivors) held their annual Black and Blue Ball fundraiser for the families of Iowa's fallen police officers (this includes the family of IFC member and Des Moines Police Sergeant Tony Beminio). To show our support the Iowa Firearms Coalition leveraged some of our firearms industry contacts to build a truly remarkable and one-of-a-kind AR15. Our Thin Blue Line rifle featuring Trijicon optics, a SilencerCo suppressor and skeletonized F-1 Firearms receivers was the marquee raffle item at last night's fundraiser. Statistics show that three-quarters of our nation's law enforcement officers support Second Amendment rights much the same way we do. Iowa COPS volunteers are still tallying up the raffle sales from last night, but no matter how much this rifle raised we're proud to continue to standby Iowa COPS.
More updates to come. Thank You for Continuing to Support the Iowa Firearms Coalition!