By Mike Searson
I'll be buying this Ruger test gun. I don't do that often, but in the case of the Ruger GP-100 Revolver in.44 Special,,, I made an exception.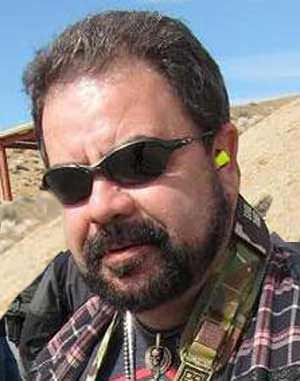 USA –  -(Ammoland.com)- We were surprised late last year when Sturm, Ruger & Co. announced that they were offering the GP-100 as a 5-shot in .44 Special. The Ruger GP100 Revolver was perhaps their flagship double action 357 Magnum since the 1980s and the design from which the Super Redhawk guns emerged.
We are longtime fans of the bigger Redhawks and Super Redhawks and other revolvers in 357 Magnum held our interests more so than the Ruger offering.
Sometimes I'm the backwards guy when it comes to firearms.
I have a SIG P229 in 9mm and a SIG P226 in 357 SIG. Sometimes these things work and sometimes they do not, just ask the guy who has an AR in 7.62X39 and a Norinco AK in 5.56.
In the case of the Ruger GP100 Revolver in 44 Special, I would say that Ruger got this one right.
First, the thing about 44 Special.
Despite shooting 44 Magnums from the earliest days of our shooting career, we came to the 44 Special rather late in the game. We always passed it over, seeing Magnum ammunition for usually just a few dollars more as opposed to the more significant price difference between 357 Magnum and 38 Special.
We had purchased a revolver in 44 special 4 or 5 years ago and when forced to use the ammunition, we were pleasantly surprised with its low recoil and good accuracy.
The round was an outgrowth of the old 44 Russian round from circa 1870. In 1907 the case was lengthened and the 44 Special became one of the most popular big bore revolver rounds out there until 1956 when the 44 Magnum made its debut.
A few years later the 44 Special started its decline and revolver manufacturers for the most part ignored it to focus on the demand for the Magnums.
Some diehard old school shooters kept it alive as did the sport of Cowboy Action shooting. Recently the round is making somewhat of a comeback.
Ruger GP-100 Revolver The Good
We got our revolver in the Friday before SHOT Show 2017 and were lucky enough to test it before heading down to Vegas.
The balance on the Ruger GP100 with its 3″ barrel is superb. Some may clamor for a 4″ barrel, but for the weight of a piece like that you might be better off with a Redhawk in 44 Magnum.
The front sight is a green Tru-Glo Fiber Optic type with a white outline adjustable rear.
Ruger revolvers are often compared to tanks and the GP100 is no exception. All stainless steel solid frame construction with Ruger's patented 3-point lockup on the un-fluted cylinder makes this a strong revolver that will outlast several generations.
In double action the trigger breaks at 10 pounds, single action ranged from 4.5 to 5 pounds with our RCBS Trigger scale.
Our first outing with the pistol to the range was about average with some Winchester Silvertip 44 Specials. The group size was bigger than we anticipated at over 4" at 50 feet. That changed when we switched out to some 200 Grain cowboy loads, which we suspect may have been sized a bit larger than the JHP stuff. It reduced our 5-shot strings to 3.25".
Although it is a new caliber for this revolver, the GP100 model has been out for over 30 years and holsters are well represented in the aftermarket. Speed loaders and speed strips are available for quick reloads.
Ruger GP-100 Revolver The Bad
My sole complaint about the Ruger is the large Hogue rubber grip. I will more than likely replace it with an old school GP100 grip with a smaller rubber outside and wood panels or maybe call up Hogue and see about an all wood grip.
This has nothing to do with shooting, but these grips might make for a lower profile carry mode and will make the revolver look more aesthetically pleasing. Some have cautioned about "felt recoil" and that may be a concern for some, but we think 44 Special is closer recoil-wise to a 45 ACP. If this revolver were chambered in 44 Magnum it might be a different story.
Thankfully, Ruger's GP100 makes for easy grip changes without concerns of Square vs Round butt on the frame.
The only real gripe we have heard from others is "Why didn't Ruger go all the way and make it in 44 Magnum?"
To be fair, Smith & Wesson made a few 5-shot 44 and 41 Magnum offerings on the "L Frame" which is about the same size as the GP100 frame.
However the difference is Ruger's mindset when it comes to offering a revolver than S&W does. Smith & Wesson sold the 586 and 686 L frames in 357 Magnum with the warning to shoot 357 Magnum occasionally, advising shooters to rely on 38 Special in +P loadings as a more mainstay round.
Ruger on the other hand builds a similar sized revolver and expects 60 to 90,000 rounds of Magnums as par for the course. I speculate that at this point in time they more than likely could not guarantee those numbers. We say give them time and you might see a 5 shot 44 Magnum before the Hearing Protection act comes to pass.
Ruger GP-100 Revolver The Reality
Concealing: the Ruger GP100 44 Special is not a pocket rocket. Its size limits its concealability. However, with a proper belt, holster and wardrobe adjustment it could work well in this regard.
As a backwoods carry gun in most of the United States it would do well in a self-defense role vs black bear, mountain lion, feral dogs, wolves and coyotes as well as any two legged predators. With a heavy hard cast bullet loaded to the threshold, it could work on brown bears. Personally, we think that is pushing it and would opt for something bigger.
If you are a fan of 44 Special, this revolver is a winner. If it is something you have not tried, this would make for a great revolver for an underappreciated round that has enormous potential for a hand loader. You can go from soft shooting target loads to hard hitting sub-Magnum level loads.
As for me, I'll be buying this test gun. I don't do that often, but in the case of the GP100 in 44 Special I made an exception.
Ruger GP-100 Revolver Specs:
Grips: Hogue® Monogrip®
Front Sight: Fiber Optic
Barrel Length: 3″
Capacity: 5
Rear Sight: Adjustable
Twist: 1 in 20″ RH
Finish: Satin Stainless
Overall Length: 8.50″
Weight: 36 oz.
Grooves: 6
CA Approved: No
MA Approved & Certified: No
Suggested Retail: $829.00
About Mike Searson
Mike Searson's career as a shooter began as a Marine Rifleman at age 17. He has worked in the firearms industry his entire adult life as a Gunsmith, Ballistician, Consultant, Salesman, Author and was first certified to teach firearms safety in 1989.
Mike has written over 2000 articles for a number of magazines, websites and newsletters including Blade, RECOIL, OFF-GRID, Tactical Officer, SWAT, Tactical World, Gun Digest, Examiner.com and the US Concealed Carry Association as well as AmmoLand Shooting Sports News.
Home page: www.mikesearson.com
FB: www.facebook.com/mike.searson
TWITTER: www.twitter.com/mikesearson