By David Tong,
In this article, David Tong reviews the powerful Ruger M77 Mk. II Express Magnum.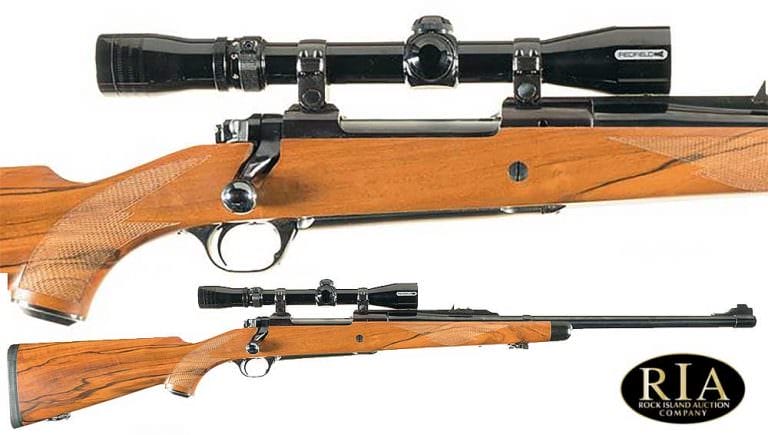 U.S.A. –-(Ammoland.com)- In the waning days of the late William Ruger senior's management, a man who loved classic styled firearms and had recently updated the company's Model 77 rifle into controlled feed design, authorized the development of the Express Magnum variant of the M77.
By doing so, the rifle was easily capable of handling the largest cartridges typically used for African hunting, including the .375 H&H, the .416 Rigby, and the .458 Winchester.
Ruger M77 Mk. II Express Magnum Rifle
The design ethos of a straight-combed, "classic" stocked rifle with a heavy barrel, integral quarter rib with Express sights and folding leaves, integral recoil lug, barrel-band mounted forward sling swivel attachment, all harkened back to their original British roots.
It was only produced for three years and sold for the princely sum of $1,999. Its action was extra-long for those cartridges (though too long for the .458), and could accept four .375s rather than the more usual three.
At nearly 11lbs empty and sans scope and sling in .416, I thought it was a bit "clubby" handling when shooting offhand. The balance was muzzle heavy due to all that extra metal for the sight rib and underlug, and the other disturbing thing was Ruger's use of its period (standard caliber) so-called "live" recoil pad that is truly little more than a rubber buttplate.
There is no mechanical compression to slow down the recoil forces delivered to your shoulder, hence the felt recoil is something to behold, even for someone used to heavy recoil. The stock also seemed a little short because the dimensions of the existing buttpad dictated it.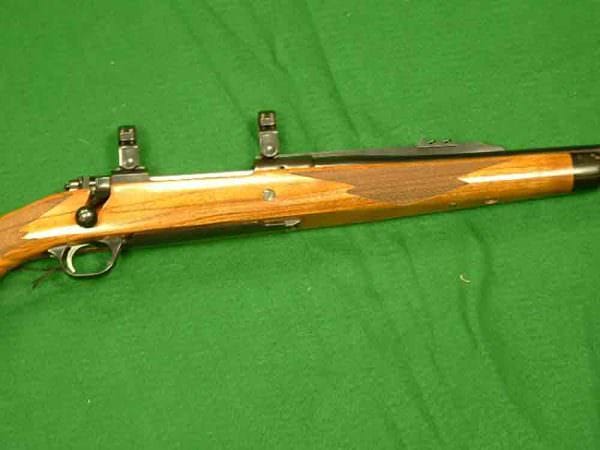 The finish was a nice satin sheen on the steel parts, that included the hinged floorplate, while the Circassian Walnut stock was finished in matte polyurethane as all other standard Ruger wood stocked rifles of the era. A contrasting ebony fore-end tip and steel grip cap were the only real deviations from the M77 template but the wood itself was a substantial and heavy upgrade.
The trigger was better than most pre-"LC6" factory trigger pulls, weighing about four pounds with a tick of creep. The standing express rear sight leaf was set for 75 yards, with two additional leaves set for 100 and 150 yards that reflect the very close ranges such a rifle would normally be used.
My Ruger M77 Mk. II Express Magnum Rifle Set Up
The usual machined steel Ruger scope rings supplied were of medium height. I exchanged those for low height ones as I wanted to fit up riflescopes without an objective bell. Indeed, the two scopes I ended up using were a Burris 1.5-5×25 and a discontinued Leupold M8-3X, and both scopes were bench tested using Federal Premium 400gr jacketed soft points, as well as my own handloads of Hornady 400gr steel-jacketed full metal jacketed round nosed "solids" with their internal steel penetrator inserts.
Thanks to the usual M98 Mauser-style, controlled-feed and non-rotating extractor design also copied by Winchester for its Model 70 rifle, there was never any feeding or extraction problem at any speed I cycled the bolt. The rifle generates over 53lbs of free recoil, so even when I fitted a Limb Saver elastomer rubber recoil pad on it, it was best to shoot it from a friend's "Lead Sled" weighted steel rest.
The rifle would shoot three shot cloverleafs all day long with either ammunition, which reinforced my opinion about the accuracy of nearly any 0.40"+ rifle caliber – usually "superb."
My primary issues with the rifle were about the balance and chunky forend that made swinging it rapidly on several targets less than ideal. Otherwise, it is a very good shooting machine that could act as a good template for a custom rifle for use on Africa's largest game animals.
One such gentleman's detailed description of what such an enhanced rifle would look like is available at www.rathcoombe.net/sci-tech/classics/rigby/ruger_416_rigby.html
Sadly, the "new" Ruger company appears to be shedding many of the conservative design tenets of its late founder, and it is a shame. I fear we shall not see it's like again, as other products such as the standard M77 Mk II as well as the Number One single shot rifle (several models), and the Red Label over/under shotgun are now history. In their place are a large number of plastic-stocked, push-feed "American" rifles, and plastic framed, striker fired handguns.
Great for users, not so great for people who appreciate fine aesthetics. About the only people who might consider this a good development are collectors who aren't interested much in actually shooting and using them, as I am beginning to see asking prices for the Express Magnum exceeding $2,400 for a new-in-box rifle in 2017.