By Major Van Harl
Join Van as we drool over this limited edition Tyler Gun Works Ruger Bearcat revolver.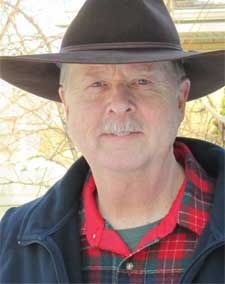 Wisconsin –-(Ammoland.com)- By the time I got into the retail firearms business in 1976, right out of undergraduate school, Strum, Ruger & Co had already discontinued their manufacturing of the single action Bearcat 22 LR revolver.
Ruger had developed a transfer bar safety system for Ruger single action revolvers and from what I understood at the time, that system did not lend itself well to the Bearcat action.
Because of this, Bearcats were scarce and anytime someone came into the gun shop with a Ruger Bearcat we all stopped what we were doing and stood there and gawked wishfully. I called Frank Ehrenford the gun designer, now living in Wyoming, to reminisce about our days working together at the gun shop and I brought up the topic of the Bearcat.
He immediately told me "every little kid in this country over the age of nine should be given a Ruger Bearcat and taught the fundamentals of handgun shooting using that excellent revolver."
He reminded me of an older customer we had, who had some type of neurological disorder which caused him to have problems signing the old 4473 Federal document we used back in the day to transfer a firearm to the buyer. So on a good day this older gentleman would come in and pre-sign the forms for a future purchase. The reason I tell you this story is because he would come in and buy five or six Ruger handguns in one purchase knowing he would never be able to shoot them himself.
He once told me the only two things that go up value every year are land and firearms and he was buying guns for the value, that they would afford him in leaving them to his family when he was gone. He allegedly had three groups of five Ruger Bearcats in consecutive numbers.
I say allegedly because unlike the store manager, I was never invited to see this man's collection. I could only live vicariously with second-hand tales of closets full of unfired Rugers in the old yellow boxes. Where they are today who knows, but Ruger Bearcat collectors are out there looking.
Tyler Gun Works Ruger Bearcat "Shopkeeper" Revolver
Ruger reintroduced the stock Bearcat Revolver in 1993. Bobbie Tyler the owner of Tyler Gun Works of Friona Texas has developed a version of that revolver to catch the attention of Bearcat collectors or Bearcat shooters who just wanted a handgun that says "I am different and you want to own me."
Mr. Tyler has taken possession of 200 Ruger Bearcat "Shopkeeper" models that have a 3 1/2 inch barrel, a fluted cylinder and the bird's head frame. Mr. Tyler then adds his Tyler Gun Works magic and does the best color case work in the gun industry. His efforts greatly enhances the desire to own, and the understood value to invest in this handgun.
There are only 200 of these special Ruger Bearcat "Shopkeeper" handguns and each will have a 1-200 number engraved on the frame. There will be 30 of the Bearcats that will be custom engraved by Dale Bass. Mr Bass is the on-staff engraver for Tyler Gun Works. The quality of his engraving has generated so much interest for his exceptional work that he is not only in demand by firearms manufacturers using Tyler Gun Works services, but the private gun owning citizens who entrust their family heirlooms to Bobby Tyler for the shop's gunsmith work.
I would suggest you go to the Tyler Gun Works facebook page and take a look at some of the excellent engraving projects that Mr. Bass has produced, to include photos of one of the custom engraved Tyler "Shopkeeper" Ruger Bearcats.
My first contact with Bobby Tyler's work was when he sent a tomahawk axe for me to review. The "hawk" had been color case finished and the pattern just popped when you looked at it. Mr. Tyler does all the color case finishing for Henry Repeating Arms. When I got my hands on a Henry 30-30 lever action rifle and laid the Tyler "hawk" next to the rifle the work on both were excellent.
Every Tyler "Shopkeeper" Bearcat will be disassembled and undergo the color case process personally by Mr. Tyler. The rounded bird's head frame will be accented with rosewood grips. These Bearcats are not a standard revolver that Ruger makes for general availability to their distribution network and retail gun dealers, these are a limited edition direct from the Tyler shop.
These Tyler "Shopkeeper" Bearcats will be found exclusively at Tyler Gun Works, Friona Texas. The color case only finished, Tyler Bearcats will sell for $599 and the custom engraved ones go for $1099. Go look at the Ruger web site and you will see that the "regular" Bearcat lists for $639 ( less online ). All Tyler Gun Works's will all be engraved with a number between 1 and 200.
So, not only are you getting a gorgeously finished and manly collectable Ruger handgun, you would be acquiring the Tyler "Shopkeeper" Bearcat at a very reasonable price.
Should you have any nine year olds in your life that you want to invest in their future, both in the safety and monetary way, I suggest you consider getting your hands on a custom color case finished Tyler Ruger "Shopkeeper" Bearcat.
I have a daughter and she will inherit all my firearms. She has been instructed that the granddaughters and the great granddaughters are to get preference in inheriting those firearms when my daughter has no more earthly need for them.
Think how you can benefit your children and your children's children today and for their tomorrows. One lonely little Tyler Gun Works custom finished Ruger Bearcat is not going to solve all the ills and problems your descendants will encounter, but it just might be the small edge that makes a difference.
On top of everything, the Bearcat is a great gun and Bobby Tyler's efforts make it that much better.
Buy one, shoot it, and then pass it on to your family.
Major Van Harl USAF Ret.
[email protected]
About Major Van Harl USAF Ret.:Major Van E. Harl USAF Ret., a career Police Officer in the U.S. Air Force was born in Burlington, Iowa, USA, in 1955. He was the Deputy Chief of police at two Air Force Bases and the Commander of Law Enforcement Operations at another. He is a graduate of the U.S. Army Infantry School.  A retired Colorado Ranger and currently is an Auxiliary Police Officer with the Cudahy PD in Milwaukee County, WI.  His efforts now are directed at church campus safely and security training.  He believes "evil hates organization."  [email protected]