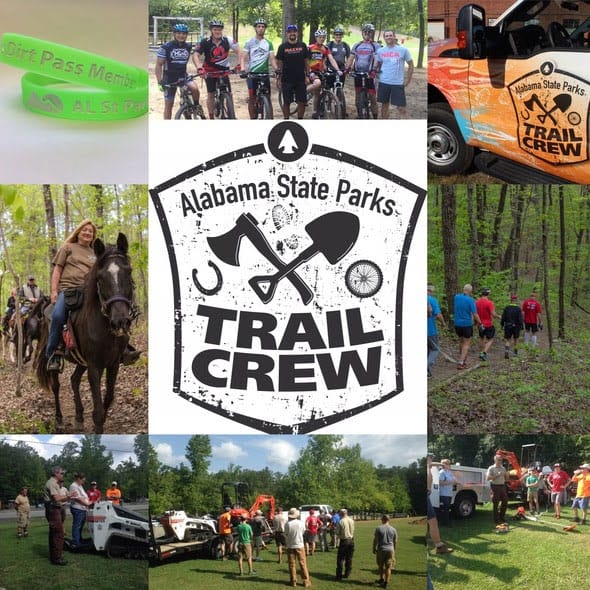 USA -(Ammoland.com)- Since the opening of the first state parks in Alabama, trails have been a fundamental part of the park system's mission to provide and maintain outdoor recreational opportunities.
Because of this and the fact that trail use has surpassed our ability to provide adequate trail resources we created the Dirt Pass Trail Crew Program in 2016.
This program is a way to voluntarily donate $35 per year to help support our efforts to improve our trail system.
Where does your money go? Your money goes directly to the maintenance, enhancement and planning of the Alabama State Parks trails system.
This includes:
Organized trail work days for community involvement.
Supporting a full-time trail crew.
Provides professional support to existing volunteer groups.
Surveying the needs of the trail users.
New trail building equipment to ensure efficiency.
Overall improvement to your favorite trails.
How do you donate the $35? You can visit the office of any of the participating parks or use our new online donations tool. As part of this donation you will receive a Dirt Pass Trail Crew green wristband and trails gifts.
The Dirt Pass Trail Crew Program was introduced in June of 2016 and since that time we have had a chance to identify some areas of improvement. Starting in April (4/8/17) we will dedicate the second Saturday of each month as Dirt Pass Day. All Dirt Pass Trail Crew members wearing their green wristbands will be admitted free into any gated park entrance.
You must have the green wristband in order to receive free entrance. Please make your donations by the first of the month to allow time for shipment and receipt of the wristband.
As part of the program we have conducted several equipment training days with volunteer user groups and we look forward to cultivating relationships with other groups that are interested. Our goal is to grow the program by planning and working together.
Stay tuned for more information as this young program evolves and thanks for your support.