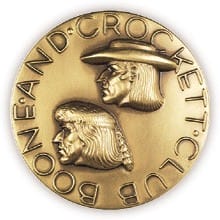 MISSOULA, Mont. –-(Ammoland.com)- Buck Knives has joined a growing list of outdoor industry partners in lending their support to a nationwide effort led by the Boone and Crockett Club to strengthen the image of the North American hunter. As part of supporting the initiative, Buck Knives will share in the motivational outreach campaign to help promote the positive benefits of hunting and to help invigorate our community's commitment to the principles of fair chase.
"Negative perceptions of our outdoor tradition are increasingly focused more so on the behavior of hunters, than the activity of hunting itself," said B&C Chief of Staff Tony Schoonen. "In a society where urban ideologies are taking center stage, the hunting community must address the fact that today's hunter – and especially today's young hunter – will face a more difficult future in terms of public acceptance."
The Hunt Fair Chase initiative seeks to educate the hunting community about the commitment to fair-chase ethics and highlight the intrinsic values brought by hunting – self-reliance, self-determination, self-restraint and self-respect. The campaign will launch this August with the support of a wide variety of outdoor industry partners.
"We are pleased to add our support to this effort," said CJ Buck, CEO and chairman of Buck Knives, Inc. and B&C Communications Chair. "Working with the Boone and Crockett Club, our goal is to reach out to America's millions of hunters – the vast majority of whom are law-abiding and ethical sportsmen and sportswomen – to enlist their support in helping ensure that all who go afield do so with the tenets of fair chase in mind."
Theodore Roosevelt and the Boone and Crockett Club popularized the concept of fair chase at a time in our history when the unregulated harvest of game was a significant factor in the loss of some species and the near loss of others. Conservation was being promoted as the new model for the treatment of natural resources, to not only recover wildlife populations, but also to ensure they would never be threatened again.
Sportsmen of that era took it upon themselves to embrace conservation and recover the game they cherished. They also embraced a new code of conduct called fair chase that spoke to their character and commitments.
"The generations of hunters who came before us set the standard and were respected members of their communities for their skill as woodsmen and their values," said B&C Director of Marketing Keith Balfourd. "Every once in a while its healthy to shine a light on those things that make hunting special so collectively the image we project is one to be admired."
The Hunt Fair Chase initiative will launch this August with an interactive website and social media effort.
About the Boone and Crockett Club
Founded by Theodore Roosevelt in 1887, the Boone and Crockett Club is the oldest conservation organization in North America and helped to establish the principles of wildlife and habitat conservation, as well as many of the institutions, experts agencies, science and funding mechanisms for conservation. Member accomplishments include enlarging and protecting Yellowstone and establishing Glacier and Denali national parks, founding the U.S. Forest Service, National Park Service and National Wildlife Refuge System, fostering the Pittman-Robertson and Lacey Acts, creating the Federal Duck Stamp program, and developing the cornerstones of modern game laws. The Boone and Crockett Club is headquartered in Missoula, Montana. For details, visit www.boone-crockett.org.