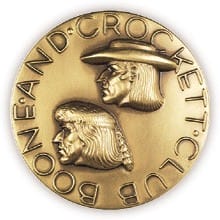 U.S.A. –-(Ammoland.com)- For over 130 years the Boone and Crockett Club has either established, championed, or mobilized support for what is now known as the North American Model of Wildlife Conservation.
Founded by Theodore Roosevelt and George Bird Grinnell in 1887, the club is the oldest organization dedicated to wildlife conservation in North America. Both Roosevelt and Grinnell fostered the establishment of the National Park system, which celebrated its 100th anniversary in 2016.
To highlight, as well as preserve, the legacy of these two heroes of conservation and the club, Commemorative Firearms has been commissioned to create "The Pioneers of Conservation Rifle", built on a fully functioning Henry Repeating Arms .45-70.
Within the details of the intricate scrolling engraved on the rifle are a number of the big game species that the Boone and Crockett Club has helped to preserve in their storied 130 year history. Scenes depicting the American Bison, Elk, and Grizzly Bear are exquisitely engraved in the gold finish.
Within the high gloss nickel finish of this rifle, in 24 Karat gold, are engraved iconic reliefs that feature both Roosevelt & Grinnell in the great outdoors. Additionally, on the left side of the receiver, the official Boone and Crockett Club's medallion is highlighted.
Only 75 of "The Pioneers of Conservation Rifle" have been authorized by the Boone and Crockett Club to be produced. This magnificent tribute Rifle will be highly sought after by collectors and club members alike. To make your reservation of this highly limited edition or for more information call Commemorative Firearms toll free today.
About the Boone and Crockett Club:
Founded by Theodore Roosevelt in 1887, the Boone and Crockett Club promotes guardianship and visionary management of big game and associated wildlife in North America. The Club maintains the highest standards of fair chase sportsmanship and habitat stewardship. Member accomplishments include enlarging and protecting Yellowstone and establishing Glacier and Denali national parks, founding the U.S. Forest Service, National Park Service and National Wildlife Refuge System, fostering the Pittman-Robertson and Lacey Acts, creating the Federal Duck Stamp program, and developing the cornerstones of modern game laws. The Boone and Crockett Club is headquartered in Missoula, Montana.
For details, visit www.boone-crockett.org.