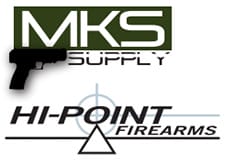 Dayton, OH –-(Ammoland.com)- Combine a tough, economical, totally reliable handgun with a strong, handy and economical lock box and you get a secure but quick-to-use and effective security package that almost anyone can afford: The Hi-Point Home Security Pack.
Start with a Hi-Point handgun and secure it in Hi-Point's heavy-duty, edge overlapping pry-resistant powder-coated 11.5 x 8.5 x 1.5-inch 18-gauge steel box with one-half-inch memory foam liner and matching numbered keys for security. Together, Hi-Point's handgun and lockbox become the Hi-Point Home Security Pack, an effective and affordable combination of reliability, power and safety that most anyone can afford in today's troubled times.
Further lockbox features:
40-inch, 1,500-pound-test, rubber-coated steel cable so the box can be attached to a sturdier object if desired such as a vehicles seat supports to comply with some state laws that prohibit guns in the glove box but allow them in the passenger cabin if contained in a lockable box.
Comes with pre-drilled mounting holes for permanent surface attachment.
Meets TSA airline unloaded firearm transportation guidelines.
Hi-Point Home Security Pack Combo:
.380ACP, one 8-round magazine…….$199
9mm, one 8-round magazine………….$215
.40 S&W, one 10-round magazine…..$235
.45 ACP, one 9-round magazine……..$235
About MKS Supply, LLC:
MKS Supply insists on high quality, reliable firearms. We insist on guns that are easy to own and service. Most of all, we insist on value.
For more information, please visit www.MKSSupply.com.