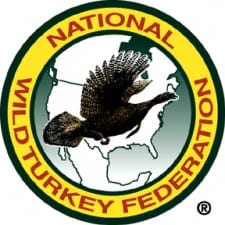 NASHVILLE, Tenn. –-(Ammoland.com)- For his unwavering and unsurpassed support of the National Wild Turkey Federation and its mission, Johnny Morris, noted conservationist and founder of Bass Pro Shops, received special recognition during the 41st annual NWTF Convention and Sport Show in Nashville.
A passionate sportsman who recognizes the importance of conserving natural resources for future generations, Morris is deeply involved with NWTF's conservation efforts including helping to support habitat protection, more opening more access to public hunting land and recruiting more hunters to support conservation efforts across the United States.
"No one has had a larger impact on all facets of our organization and our ability to deliver our mission than Johnny Morris," said NWTF CEO George Thornton. "Johnny lives his passion every single day and we're so proud to salute our friend in conservation."
Morris has made a significant impact on the NWTF including donating more than $1 million with the NWTF Hunting Heritage Center, which shared the shooting sports, hunting and conservation with over 50,000 people in its first year. He also played a leading in role in several other key initiatives, including a $1.1 million donation to pay off construction of NWTF headquarters.
Through the Bass Pro Shops promotional card program — each new NWTF member receives a $25 Bass Pro Shops promo card — Morris has helped the NWTF increase and retain members, which helps grow the organization's volunteer base that is committed to Save the Habitat. Save the Hunt.
Morris also engaged his customers to support the NWTF mission through roundup months at all Bass Pro Shops locations. During these months, customers can round their final purchase amount up to the nearest dollar with proceeds supporting NWTF and its on-the-ground habitat and hunter recruitment work.
Johnny was previously honored by NWTF in 2006 with the organization's prestigious Lynn Boykin Hunting Heritage Award, named after former president and chairperson of the NWTF national board.
About Save the Habitat. Save the Hunt.
The NWTF Save the Habitat. Save the Hunt. initiative is a charge that mobilizes science, fundraising and devoted volunteers to give the NWTF more energy and purpose than ever. Through this national initiative, the NWTF has committed to raising $1.2 billion to conserve or enhance more than 4 million acres of essential upland wildlife habitat, recruit at least 1.5 million hunters and open access to 500,000 acres for hunting, shooting and outdoor enjoyment. Without hunters, there will be no wildlife or habitat. The NWTF is determined to Save the Habitat. Save the Hunt.