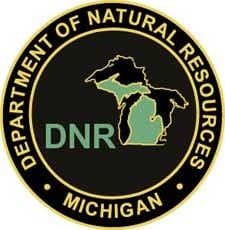 USA -(Ammoland.com)- Gov. Rick Snyder has proclaimed Wednesday, March 15, as Michigan Conservation Officer Appreciation Day in recognition of the brave men and women who serve in the Department of Natural Resources Law Enforcement Division.
Two men flanked by flags hold a framed proclamationThe division was created in 1887, making it Michigan's oldest statewide law enforcement agency. Conservation officers are fully commissioned state peace officers.
They are best known for their environmental and natural resources protection responsibilities, but they also ensure recreational safety and protect citizens by providing general law enforcement duties and lifesaving operations in the communities they serve.
"These men and women represent a special type of law enforcement officer," Snyder said. "From inner cities to the deep woods, wetlands to the Great Lakes, on watercraft, off-road vehicles and on foot, DNR conservation officers serve with courage and professionalism. Conservation Officer Appreciation Day is a great opportunity to explore careers in DNR law enforcement, learn more about our world-class natural resources and thank our officers for all they do on behalf of the Great Lakes State."
The DNR Law Enforcement Division is an elite, versatile team that uses the latest technology to solve crimes and safeguard Michigan. It maintains strict mental, physical and character standards for its officers. Candidates must complete 22 weeks of rigorous training and fulfill a probationary period before making the grade.
Following the 22-week training academy, officers undergo 18 additional weeks of intensive field training and five more weeks of specialized seasonal training.
In addition to protecting the cultural, environmental and natural resources that make Michigan unique, conservation officers often serve as first responders in communities and work closely with local, state and federal agencies.
"We're proud of our conservation officers," said DNR Director Keith Creagh. "Their tireless efforts help preserve the natural resources and recreational opportunities that make Michigan such a special place to live, work and play."
"Michigan is a stronger, safer state thanks to our conservation officers," said Law Enforcement Division Chief Gary Hagler. "They are integral to the overall team of professional law enforcement officers across Michigan that protects citizens and ensures a high quality of life that makes our state an attractive destination for visitors."
Learn more about conservation officers on their website.