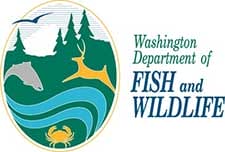 OLYMPIA –-(Ammoland.com)- About a thousand pounds of antlers – many seized from poachers by the Washington Department of Fish and Wildlife (WDFW) – are currently being sold through the Department of Enterprise Services (DES), Surplus Operations program. Proceeds will support efforts to stop wildlife poaching.
The moose, elk and deer antlers were received from WDFW by Surplus Operations and are being sold through an online auction (http://www.publicsurplus.com/sms/state,wa/browse/home?tm=m) and in the retail space in the program's Tumwater warehouse, located at 7511 New Market St.
Deer, elk and moose are popular targets for poachers, said Mike Cenci, deputy chief of enforcement at WDFW. Legal hunting seasons are designed to control wildlife populations, but illegal hunting of these animals can harm the herds and create a disadvantage for ethical hunters, he added.
Funds from the antler auction will be used to pay rewards to people who report poaching violations that lead to a conviction, said Cenci. Some of the funds may also help pay for forensic work used to tie violators to crime scenes, surveillance technology and investigations into illegal trafficking of wildlife.
In 2012, antler sales contributed more than $21,000 to state government anti-poaching efforts.
To report poaching, call 1-877-933-9847, or visit the Fish and Wildlife enforcement webpage (http://wdfw.wa.gov/enforcement/reporting_violations.html) for more information.
Enterprise Services' Surplus Operations program sells goods ranging from antlers and tools to computers and used vehicles directly to the public, both online and in its Tumwater warehouse (http://des.wa.gov/services/surplus/buy-surplus). The sale and reuse of the goods keeps thousands of pounds of materials from being dumped in landfills. Proceeds from sales are returned to state agencies to help fund their programs and operations.
The Tumwater warehouse is open five days a week, and online auctions are really popular, said Jennifer Reynolds, a communications consultant with DES.
Persons with disabilities who need to receive this information in an alternative format or who need reasonable accommodations to participate in WDFW-sponsored public meetings or other activities may contact Dolores Noyes by phone (360-902-2349), TTY (360-902-2207), or email ([email protected]). For more information, see http://wdfw.wa.gov/accessibility/reasonable_request.html.