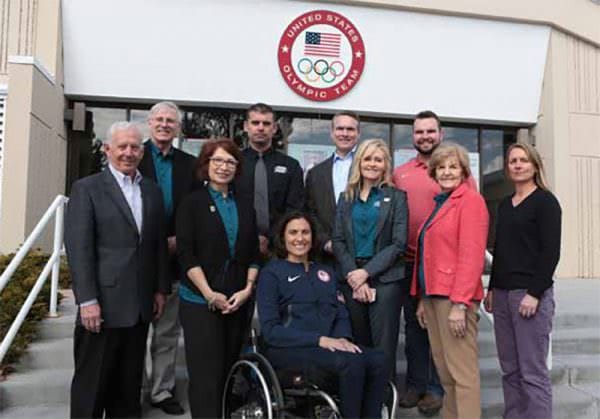 COLORADO SPRINGS, Colorado –-(Ammoland.com)- A new chapter in the history of USA Shooting began with the seating of an entirely new Board of Directors (BODs) on Saturday at the U.S. Olympic Complex in Colorado Springs.
Eight new BOD members including four independent directors, USA Shooting's representatives for the Athlete Advisory Council (AAC), coach/officials, member clubs and athlete representatives for Paralympic and shotgun shooting disciplines were on hand to meet with USA Shooting staff and conduct their first official meeting as a new Board. Paralympic athlete representative Tricia Downing (Denver, Colorado) filled in for the USA Shooting Athlete Representative to the BOD, Jim Henderson, the discipline representative for who was unable to attend[JDR1].
The meeting included the election of officers with independent director Jeff Price (Colorado Springs, Colorado) being selected as USA Shooting's Board Chairman. Independent Director Paul Boyer (Raleigh, North Carolina) will serve as USA Shooting Vice Chair and coach/official representative Rick Hawkins (Pine Mountain, Georgia) was elected Treasurer.
"It's truly and honor and a privilege to represent USA Shooting in this capacity," Price said. "Everyone on this Board of Directors is a passionate, driven, solution seeker who is ready to continue the tradition of excellence that USA Shooting has established. We are first and foremost committed to the athletes, but our commitment does not end there. Our members, sponsors, donors, fans and staff have all made a positive impact on this sport. We're already hard at work on moving forward together and making this organization better for the future."
Other BOD members include: Barb Bridendolph, independent director; Kristen Raskopf, independent director; Keith Sanderson,AAC representative; and Lisa Kelley, member club representative. An advisory council chair spot is the lone unfilled position on the new Board. Also attending was alternate shotgun representative Collin Wietfeldt, Paralympic pistol shooter Michael Tagliapietra and USA Shooting staff members including Dave Johnson, Kevin Neuendorf, Pete Carson, Alex Szablewski and Karie Wright[JDR2] .
BOD members were welcomed by U.S. Olympic Committee Chief Executive Officer Scott Blackmun, who encouraged staff, athletes and BOD in attendance to always "assume positive intent in their interactions with one another." He also added that the goal of any BOD is to concentrate on "strategic programs and policy."
USA Shooting's legal counsel, Tom James, also addressed the group to provide a legal orientation relative to their position as BOD members as well as provide some insight into the new bylaws and governance structure as adopted by the previous Board of Directors on March 12, 2016.
A new governance structure was put in place as a response to a complaint filed with the United States Olympic Committee (USOC) by athletes and other members of USA Shooting under Section 10 of the USOC Bylaws. Representatives from USA Shooting and the Complainants worked with a Blue Ribbon Panel of experts appointed by the USOC to review and make recommendations on how to incorporate best practices and increased operational transparency into the governance structure of USA Shooting. This work resulted in the development of Amended and Restated USA Shooting Bylaws and Governance Implementing Provisions that were adopted by the USA Shooting Board.
Because of the reforms, USA Shooting's Board of Directors transforms from a 15-person to a 10-person Board, reducing the number of constituency-based Board positions and ensuring that no employee of USA Shooting may be a voting member of the Board of Directors.
The new BOD spent considerable time Saturday discussing the five standing committees that exist as part of the new governance structure: (1) Nominating and Governance; (2) Finance and Compensation; (3) Audit; (4) Judicial; and (5) Ethics. The BOD deferred naming representatives to those committees until more legal input could be provided regarding bylaw interpretation and construct.
The Board also was briefed on current USA Shooting staff operations, key athlete performances and overall sport structure. At the conclusion of the meeting, the BOD did decide to increase the frequency of meetings, particularly in the first year as a new Board. The BOD will meet quarterly in 2017 along with several conference calls in the weeks and months ahead to establish proper procedures and support for USA Shooting athletes, members and staff.
JEFF PRICE, PAUL BOYER, RICK HAWKINS BIO
About USA Shooting:
USA Shooting, a 501c3 non-profit corporation, was chartered by the United States Olympic Committee as the National Governing Body for the sport of shooting in April 1995. USA Shooting's mission is to prepare American athletes to win Olympic medals, promote the shooting sports throughout the U.S. and govern the conduct of international shooting in the country.
Check us out on the web and on Twitter.