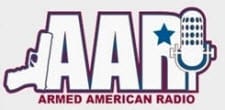 USA – -(Ammoland.com)- Armed American Radio with Mark Walters – This Sunday's "Monster Broadcast" was a tremendous amount of fun.
I was able to bring you the program directly from the Salem Media Group and Salem Radio Network Network (SRN) News global HQ and studios in Dallas, TX. That enabled me, of course, to sit with my long time board-op/producer, Sean "Seanto" Young and bring in a few local guests to the studio.
Because we were in town for the United States Concealed Carry Association's 3rd annual CCW Expo held at the Ft. Worth Convention Center, I stayed over an extra night specifically for this live broadcast from the network mothership.
It was a blast. The SRN HQ is a state of the art facility that produces not only AAR but top talk radio programs such as The Mike Gallagher Show, Hugh Hewitt, Dennis Prager and Michael Medved to name some of their top voices.
Joining me for a really fun show from the studio was none other than Top Shot season 4 and 5 contender as well as Olympic shooter, Gabby Franco. The Dallas News Chick, Val DeOre sat with us for a few segments and the guest lineup was great. Calls from California, New York and regular contributor from Breitbart News, AWR Hawkins who was in rare form!
AWR is a fan favorite and hour two with him will bring you some laughs. He doesn't mince words when it comes to putting away the liberal liars, I promise!
Enjoy this very special and fun edition of AAR from the Salem Radio Network studio HQ from Dallas, TX and I'll see ya on the radio today and every day of the week!
Hour 1:
Hour 2:
Hour 3:
About Armed American Radio: 
Armed American Radio is one of the fastest growing, nationally syndicated, radio programs in America. Heading into his 9th year on national radio, host Mark Walters educates, informs and entertains millions of responsibly armed Americans, six days per week. Make sure to visit www.armedamericanradio.com to listen live or find a station near you.