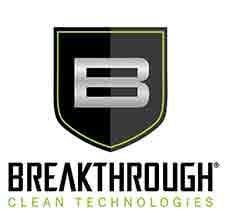 USA -(Ammoland.com)- Breakthrough Clean, makers of the finest gun cleaning solvent, lubricant and gun maintenance products will be showcasing their products at the NRA annual meetings and exhibits, April 27- at the Georgia World Congress Center in Atlanta, Georgia.
All NRA show attendees are encouraged to stop by Breakthrough Clean's Booth #4930 to see Breakthrough Clean's complete line of products and take advantage of their NRA show special.
Stop by and purchase Breakthrough Clean's Ammo Can Cleaning Kit and get a free pair of Gargoyles sunglasses (a $160 value!). Limited supply so get to the booth quick!
Breakthrough will also be sponsoring the 3rd annual Tactical Response Party with James Yaeger. Complimentary snacks, entertainment, and free beer with be provided. Location and time are below:
Saturday, April 29 at 7 PM – 11 PM CDT:
HYATT REGENCY ATLANTA
265 Peachtree St. NE, Atlanta, GA 30303, USA
Saturday April 29th at 7:00 till 11:00
Snacks, Free Beer, Pay Bar, Entertainment
Be sure to stay tuned to Breakthrough's facebook and instagram accounts for updates. This is a link to the official NRA Show Party page: NRA Show Party
Learn more about Breakthrough visit their website.
About Breakthrough Clean Technologies:
In 2013, Breakthrough Clean released their flagship product Breakthrough Military-Grade Solvent in response to an ever growing need for a more effective, odorless, user-safe, and eco-friendly cleaning solvent that worked efficiently and safely to remove carbon fouling from firearms fast. Through Breakthrough Clean's continual commitment to excellence, state of the art research, and processes, they now provide a complete gun care maintenance system geared to make cleaning and maintaining your firearm easier, safer, and faster than ever. Breakthrough Clean's solvent eliminates more contaminants than most leading gun cleaners, and its lubricants easily withstand extreme temperatures (won't gum up) and minimize the frequency of needed applications all while extending your firearms life. Breakthrough Clean is the choice for gun owners who settle for nothing less than the best when it comes to the care of their firearms, bows, knives and fishing reels.