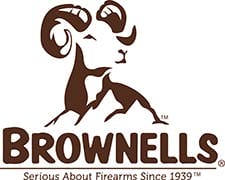 GRINNELL, Iowa -(Ammoland.com)- Brownells is set to celebrate the Second Amendment in style with 80,000 of its closest friends this coming April 28 – April 30, 2017, as the 78-year-old company attends its 69th consecutive NRA Annual Meeting & Exhibits in Atlanta, GA.
On tap in the Brownells booth (#1713) – located just inside the main show entrance – will be a plethora of activities including 30 of Brownells' famous Dream Guns for attendees to handle and take notes on for their own builds.
Brownells will also be giving away one Dream Gun each day in the booth. Attendees must sign up daily in the booth for the opportunity to win that day's Dream Gun-A-Day Giveaway. Gun winners will be announced daily in the booth 30 minutes before show close.
The following guns will be given away:
As if the coolest guns on the planet weren't enough, Brownells has an extensive booth appearance schedule that includes celebrities, gun industry social media personalities and DIY gunsmithing demonstrations from Brownells' very own Paul Levy and Steve Ostrem. The full booth schedule is listed below.
Brownells 2017 NRAAM Booth Schedule:
Friday April 28th
10-12 – Leaspeed6
12-1 – Bolt Gun Basics Demo/Q&A
1-3 – Lou Ferrigno
3-4 – DIY Glock Upgrades Demo/Q&A
4-6 – Eric & Chad from IraqVeteran8888
5:30 – Dream Gun-A-Day Giveaway Winner Announcement
Saturday April 29th
9:30-11 – Eric & Chad from IraqVeteran8888
11-12 – DIY AR customization DIY Demo/Q&A
12-1:30 – Janna Reeves
1:45 PM – "FedEx Guy" Announcement
2-4 – Lou Ferrigno
4-5:30 – Leaspeed6
5:30 – Dream Gun-A-Day Giveaway Winner Announcement
Sunday April 30th
10-11 – All About Suppressors Demo/Q&A
1130-1230 – DIY Glock Upgrades Demo/Q&A
1-2 – Lou Ferrigno
2-3 – Janna Reeves
3-4 – Ask the Gunsmith Q&A
4:30 – Dream Gun-A-Day Giveaway Winner Announcement
For those who aren't able to make the trip to Atlanta for the 146th NRA Annual Meeting & Exhibits, Brownells has created a 2017 NRAAM Homepage to bring the show to them. The page will be updated frequently throughout the show with photos and videos.
The page even includes its own Gun-A-Day Giveaway – which features stock versions of the Dream Guns being given away in the booth. Full contest rules are listed on the page.
About Brownells:
Serious About Firearms Since 1939, Brownells is the world's leading source for gun parts and accessories, ammunition, gunsmithing tools and survival gear. With a large selection of both common and hard-to-find items, and an extensive collection of videos, articles, and gun schematics, Brownells is the expert for everything shooting-related. Committed to maintaining our great traditions, Brownells has more, does more and knows more – and guarantees it all, Forever.
For more information or to place an order, call 800-741-0015 or visit their website. Stay up-to-date with Brownells on YouTube, Facebook, Twitter and Instagram.