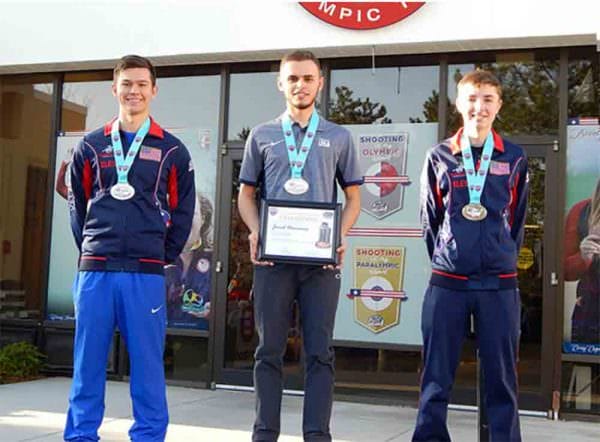 COLORADO SPRINGS, Colorado –-(Ammoland.com)- The first week of competition at the National Junior Olympic Shooting Championships (NJOSC) wrapped today at the U.S. Olympic Training Center with the final Men's Rifle titles awarded in Three-Position and Prone.
Jared Desrosiers had won the Men's Three-Position title before today's Final had seven started. Desrosiers two-day Qualification total 2327 – which included today's world-class Qualification score of 1169 – put him five points ahead of silver medalist Spencer Cap (Cranbury, New Jersey) before today's Final. Prior to the Final, Desrosiers and Cap were 25 points ahead of the next-closest competitor. Cap also won a silver medal earlier this week in the Men's Air Rifle event.
"I just had a good day," Desrosiers said. "A lot of kneeling training went into it and the kneeling paid off! During Qualification, I looked at that score (1169) and I just kept looking at it – it's a personal record for me by 10 or 11 points. Once I got in that Final, I didn't think about my score that much. I just went in to have fun and have a good match."
Will Shaner (Colorado Springs, Colorado) picked up his second bronze medal of the week when he finished in third place in this event. Shaner also won overall bronze in Men's Air Rifle.
As this competition was a selection match for the International Shooting Sport Federation (ISSF) Junior World Championship later this summer in Suhl, Germany, athletes shot two Qualification matches to qualify for the eight slots in each of today's Final. Points were added based on placement in today's Final to the Qualification scores to determine the overall winners. The top-two overall finishers in Three-Position Rifle secured team nominations to the Junior World Championships.
Peter Fiori Jr. (Lebanon, New Jersey, pictured right) won his first overall gold medal of the week when he won the Prone Rifle event. Fiori, who turns 17 tomorrow, had already claimed gold in the J2 age classification in Air and Three-Position Rifle.
Peter Fiori Jr. (Lebanon, New Jersey, pictured right) won his first overall gold medal of the week when he won the Prone Rifle event.

"On the first day of Prone I was aiming for a 622 and I didn't quite make it so I was a little disappointed in myself," Fiori said. "The second day I was really determined and I thought to myself I that had to shoot good shots, I had a really good last string and was very happy with myself."
Desrosiers picked up his second medal of the match by winning the overall silver in Prone and Norman Lilyerd (Mora, Minnesota) won bronze.
Claiming the J2 age classification silver in Three-Position Rifle was Kellen McAferty (Littlerock, Washington) and claiming bronze was Mason Hamilton (Springfield, Kentucky), who also won bronze in Men's Air Rifle.
In the J2 age classification for Prone Rifle, Shaner took home the gold medal. Tadek Kosmal (Falls Church, Virginia) won silver and Casper Schadler (Vancouver, Washington) won bronze.
As the J3 awards for Three-Position Rifle and Prone were announced, there was a sense of déjà vu as the medal placements were the same for both events: Rio Ferguson (North Borough, Massachusetts) won gold, Scott Rockett (Cary, North Carolina) won silver and Braden Peiser (San Angelo, Texas) won bronze. Earlier in the week, Rockett had won gold and Ferguson won silver in the J3 age classification for Men's Air Rifle.
Women's Rifle competition is next up at NJOSC and begins Friday. Look for the preview of this week of competition coming tomorrow at usashooting.org.
The athletes competing at the 18-day NJOSC were selected following championship competition at the state level, which totaled 2,568 competitors. The NJOSC features the top-30 percent of all competitors in 2017 and includes invitees that either won their state championship or were selected based on a score they attained. The competitors range in age from 10 to 20 years old, and are classified according to age as J1 (ages 18-20), J2 (ages 15-17) or J3 (ages 14 and younger).
About USA Shooting:
USA Shooting, a 501c3 non-profit corporation, was chartered by the United States Olympic Committee as the National Governing Body for the sport of shooting in April 1995. USA Shooting's mission is to prepare American athletes to win Olympic medals, promote the shooting sports throughout the U.S. and govern the conduct of international shooting in the country.
For more information, check them out on the website and on Twitter.