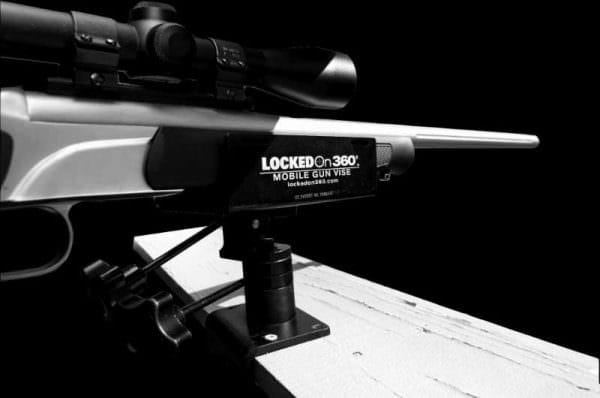 USA -(Ammoland.com)- Every hunter has missed at least one shot from a deer stand. You know that memory that keeps lingering on and on and undermines your confidence in your next shot.
Even stands with rails don't always provide a steady rest for drawing down on a deer, especially when the heart is racing because a trophy is sitting in the crosshairs. We have the solution.
The LockedOn 360 Mobile Gun Vise was designed to provide accuracy as it is a steady rest on all types of deer stands, from the wood rails on permanent stands to the tube rails of most portable stands, all while allowing full range of both vertical and horizontal motion.
As such, the LockedOn 360 is a full-featured, multi-directional gun vise that reduces recoil, secures shots and holds guns in an almost permanent ready position.
The padded vise comes fully assembled, and includes one base and post for mounting onto wood rails, as well as one universal V block for mounting onto tube rails of most metal stands.
The bases can be left attached to stands, as multiple bases are available for setting up additional stand locations. The mounting system also allows hunters to remove a single pin for easy transport to other stands also containing a base.
Once your firearm or crossbow is secured, two rotational knobs provide complete control over the vertical and 360-degree motion, allowing hunters to easily follow moving game, or even completely lock the device so hands can perform other duties, such as running a call or rattling.
In addition to providing a secure rest for shooters, the LockedOn 360 allows younger or physically challenged hunters to use larger caliber rifles, as the vise reduces felt recoil.
In all the LockedOn 360 makes the entire excursion safer by reducing the chance of dropping loaded firearms or pointing it in an unsafe direction.
To learn more, please visit their website.
About LockedOn 360°:
LockedOn 360° Mobile GunVise allows controlled movement for better shot placement. This precision vise will allow a skilled, safer and easier introduction to the hunting sports for youth and the physically challenged while reducing recoil. The seasoned hunter will appreciate the stability and range of motion it offers for those challenging shots.
For more information, please visit their website.