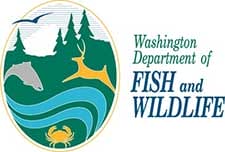 SPOKANE –--(Ammoland.com)-The Washington Fish and Wildlife Commission adopted 2017-18 hunting season rules and approved land transactions during a public meeting today in Spokane.
The commission, a nine member citizen panel appointed by the governor to set policy for the Washington Department of Fish and Wildlife (WDFW), adopted hunting rules that are mostly similar to the past two years.
Some of the significant rule changes adopted will reduce hunter harvest of deer and elk in several areas of the state – especially in eastern Washington – where harsh winter conditions took a toll on those populations. Those changes include:
A reduction in modern firearm special permits for antlerless elk in the Yakima, Colockum, and Mount St. Helens herds.
A reduction in white-tailed deer hunts in northeast Washington for senior hunters.
Switching some northeast game management units late archery deer hunts from "any white-tailed deer" to "any white-tailed buck."
A reduction in antlerless special permit opportunity for mule deer in Chelan and Okanogan counties.
Other hunting rule changes increase the daily limit for white-fronted geese and white geese in response to the growing abundance of those species, and restore points to hunters who draw permits for damage hunts administered by a hunt coordinator but are not called to participate.
The 2017-18 Big Game Hunting Seasons and Regulations pamphlet with all the rule details will be available online at http://wdfw.wa.gov/hunting/regulations/ and at WDFW offices and hunting license vendors across the state later this month. Special big game hunting permit application deadline is May 24.
The 2017-18 Migratory Waterfowl and Upland Game Seasons pamphlet will be available later this spring.
The commission also approved four land transactions, including:
The acquisition of 150 acres of wetland habitat adjacent to WDFW's Reardan Audubon Lake Wildlife Area in Lincoln County for waterfowl, shorebirds and other wildlife.
The acquisition of 215 acres of critical fish and wildlife habitat along the Teanaway River in Kittitas County, connecting existing conservation lands and the Department of Natural Resources' Teanaway Community Forest.
The acquisition of nearly 1,565 acres in the Central Cascade Range in Kittitas County as part of the Heart of the Cascades project to protect habitat for steelhead, elk and other wildlife.
The transfer of a four-acre parcel on the Pend Oreille River to Pend Oreille County for public recreation access.
The commission was also briefed by WDFW staff on operation and maintenance of wildlife areas and water access sites and livestock grazing on WDFW lands.
The commission continues its public meeting tomorrow morning, Saturday, April 15, with staff briefings on WDFW website replacement, outreach and marketing, and the enforcement program. The meeting convenes at 8:30 a.m. at the Red Lion River Inn in Spokane, 700 N. Division Street.
A complete agenda for the meeting is available at http://wdfw.wa.gov/commission/