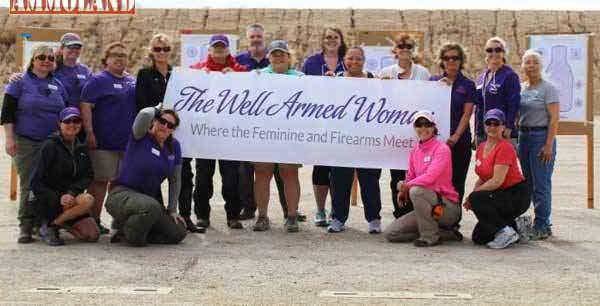 TULSA, Okla. -(Ammoland.com)- Sweet Shot Firearms Training, LLC is excited to bring The 4th Annual Well Armed Woman Oklahoma State Shoot to United States Shooting Academy in Tulsa, Oklahoma, Saturday, June 24th.
Once again the best in the nation gather for one day to train women in the Heartland. This years Oklahoma State Shoot is proud to
host a plethora of opportunities for all skill levels and honored to announce being a 2017 NRA Foundation grant recipient.
For more than two decades, The NRA Foundation has served the needs of freedom-loving Americans across this great nation. They focus on building partnerships with leaders in our communities by providing grants that are instrumental in funding programs that support their shared vision.
Receiving such grand support from the NRA foundation is unequivocally phenomenal. Thru diligence, hard work, and a like mindset to
provide & promote opportunities to exercise out 2nd Amendment rights women in Oklahoma will gain confidence in the ability to defend themselves.
In addition, this award has enabled us to offer a very inexpensive day at the range.
The Well Armed Woman (TWAW) Shooting Chapter Program is now four years old, and Oklahoma is proud to be the home of ten chapters. Oklahoma TWAW Heartland Chapters have experienced tremendous growth and now has chapters in Tahlequah, Broken Arrow/Tulsa, Oklahoma City, Enid, Fairview, Duncan, Davis, Norman, Tishomingo and Shawnee.
Women continue to be the fastest growing group of new firearm owners across the nation, and the search for knowledge, training, and instruction is key. The Well Armed Woman Oklahoma State Shoot will provide these and so much more.
Sweet Shot Firearms Training owner and TWAW Oklahoma State Co-Leader Kara Gage, Kanda Keepers OKC Chapter Leader & OK State Co-Leader, along with other Oklahoma Chapter leaders and volunteers from across the United States, will deliver a day beyond compare to both new and experienced shooters.
Joining forces with US Shooting Academy, Glock, Walther Arms, The Defensive Shooting Academy of Tulsa, Oklahoma Shooting Skills this event will offer instruction for attendees of all levels in both pistol and rifle disciplines.
In addition, there will be information and instruction for those interested in IDPA (International Defensive Pistol Association) competition style.
Since it's inception in January of 2013, The Well Armed Woman has continued to bloom nationwide. During the past four years, TWAW has expanded to over 335 chapters in 49 states with over 11,000 members, making it the nation's largest shooting organization for women. As of January 2015, The Well Armed Woman Shooting Chapters is now a 501(c)(3) tax-exempt nonprofit organization.
The Well Armed Woman Chapter Leaders of Oklahoma are looking forward to bringing the Oklahoma State Shoot to Tulsa for all ladies ages 12 and up. The goal is to create more opportunities for women to learn about different types of firearms and to gain confidence in newly acquired shooting skills, as well as to learn a sport they can enjoy for a lifetime.
The Oklahoma State Shoot is limited by space, and open to the first 150 registrants. The cost to attend is $85. This includes the range fee, ammunition, instruction, gun rental, targets, and a few special treats.
Those interested in learning more may send an email inquiry to [email protected] or contact Kara Gage at (918) 718-4478.
Please visit their Facebook page for more information.
About The Well Armed Woman Shooting Chapters:
The Well Armed Woman Shooting Chapters is a nonprofit division of the The Well Armed Woman organization that organizes local groups of women around the country that meet monthly to practice, learn and grow as shooters. The motto of TWAW is to educate, equip and empower. Presently, TWAW comprises more than 10,000 women in 310 chapters in 49 states. Three hundred female firearms instructors have been trained through the organization in less than four years. (twawshootingchapters.org)