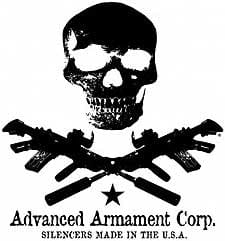 Huntsville, AL –-(Ammoland.com)- Advanced Armament Corp., LLC ("AAC") is pleased to announce today its new Halcyon modular silencer.
AAC set out on a mission to create a dual silencer solution (2 silencers with 1 stamp) that outperforms the competition.
In doing so, our team has raised the bar for rimfire silencers with the new Halcyon modular silencer.
Featuring the same tool-less design as the Ti-Rant 9M & Ti-Rant 45M, the Halcyon can be easily disassembled and/or re-configured as a full-size or compact silencer in seconds.
The advanced design of the shielded titanium K-Baffles are keyed for repeatable port alignment and set the standard for tone and accuracy.
Advanced Armament Corp Halcyon Modular Silencer
The serialized titanium rear tube, FNC stainless steel end caps and anodized 7075-T6 aluminum front tube are all finished in armor black Cerakote. The Halcyon is rated for use on pistols, rifles, and machineguns chambered for 22 LR, handguns chambered for 5.7 x 28mm, and firearms chambered for 22 WMR, 17 HMR, and 17 M2.
Advanced Armament Corp., LLC (AAC)
Advanced Armament Corp., LLC (AAC), headquartered in Huntsville, AL is an industry-leading supplier of noise and flash signature reduction devices and combat-related accessories for the military, government and commercial markets. With their innovative design concepts, technologically-advanced manufacturing techniques, and core focus on the end-user, AAC silencers and accessories have been selected by major firearms manufacturers, law enforcement agencies, commercial consumers, and military organizations globally since the company's inception in 1994.