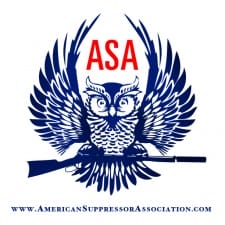 U.S.A. –-(Ammoland.com)- At the NRA Annual Meeting in Atlanta we heard from our sponsor companies and spoke to a lot of attendees about the Hearing Protection Act. The most common question, of course, was "what is the status of the hearing protection act?"
As we're sure that many of you have grown tired of answering the same question over and over, we started answering their question with a question of our own – "Have you called, emailed, or written your elected officials and asked them to support the HPA?" We were shocked that the answer, almost unanimously, was "No."
Sitting on the sidelines with fingers crossed and hoping the HPA will pass will not create the kind of overwhelming pressure on our electorate to move this bill forward. Hope is real… it's just not a strategy for success.
You know that it takes less than a minute to visit www.HearingProtectionAct.com and send an email to your elected officials. To date over 225,000 letters have been sent. But do your friends know? We know that you are getting asked the same question. It's time for you to employ the same strategy of answering their question with a question to spur them to take action.
And remember – you don't have to stop at sending an email once. The one person we spoke with that actually said he had sent emails to his elected officials through our site said, "I do it every week!" We encourage you to adopt the same weekly routine.
In other news, Senator Ted Cruz (R-TX) became the 14th cosponsor of S. 59. Also, H.R. 367 climbed to the #2 most viewed bill at Congress.gov this week and added two cosponsors, bringing the total to 139. Let's keep up the pressure!
Have You Placed A Bid For Your Favorite Yet?
The auction will run through Sunday, May 7th. Be sure to place a bid for your favorite and help us protect your right to protect your hearing today!
Gemtech Lunar 45 Suppressed Package
Rugged Obsidian 45 Suppressed Package
Sig Sauer SRD45 Suppressed Package
SilencerCo Omega 45K Suppressed Package
Yankee Hill Machine Sidewinder 45 Suppressed Package
These auctions include the following ($2,300+ MSRP):
CUSTOM Legal Manufacturing, LLC NIB Battleworn Glock 21 (.45 ACP) with their patent-pending nickel boron plating, Lone Wolf Distributors Alpha Wolf Threaded Barrel and additional factory G21 Barrel – NIB ONE plated, SSVi Tyr Trigger – NIB Battleworn plated and Glock factory night sights ($1,599 MSRP)
.45 ACP suppressor from one of the five suppressor manufacturers ($699+ MSRP)
Silencer Shop Single-Shot NFA Gun Trust ($40.00 MSRP)
ABOUT THE AMERICAN SUPPRESSOR ASSOCIATION
The American Suppressor Association (ASA) is the unified voice of the suppressor industry. Our mission is to unite and advocate for the common interests of suppressor manufacturers, distributors, dealers, and consumers. To accomplish our mission, our principal initiatives focus on state lobbying, federal lobbying, public education, and industry research.
For more information on how you can join the ASA, and help protect and expand your right to own and use suppressors, please visit us online at www.AmericanSuppressorAssociation.com or on the ASA Official Facebook Page.
If you would like to support the ASA's Hearing Protection Act (HR 367, S 59), visit our website at www.HearingProtectionAct.com to contact your legislators today!
All NFA rules apply. Buyer must be at least 21 years of age, a resident of the U.S. residing in one of the 42 states that currently allow civilian ownership of suppressors, and be legally eligible to purchase a firearm.
The American Suppressor Association is a 501(c)(6) nonprofit. However, contributions or gifts to the American Suppressor Association are not tax deductible.