by Don McDougal : Opinion

USA –  -(Ammoland.com)- The Alt-Left is going to get somebody killed; and it looks like that is by design.
When you buy a gun it is with a reason or purpose. I got a new Match Ruger 100 for Silhouette competitions, the wife got a Weatherby XXII so she could join me.
The Anti free speech movement wants to buy guns too, but not for the same reasons you and I do. They want guns to instill fear in Trump supporters.
To quote their leadership. "Who do you think the fascist is more afraid of? People with only flags and bats or people with flag, bats and guns?"
Their purpose is clear they want guns to intimate people.
Every gun bag I own has a working knife in it. Used to clear a stuck case, or open a box of ammunition …etc. Every knife has a purpose. The custom knife once advertised on the Anti's web page was specifically for "Slashing" trump supporters. Just like with firearms they to have a reason and purpose for this object, and it is solely to inflict harm on others. The knife was advertised as something you could hide and use to sneak into an event.
These groups have produced articles on their web pages about knife fighting. Their Facebook page calls for physical attacks on whites and calls on supporters to "get a gun". They promote gun ownership in order to intimidate those they disagree with, they suggest buying a concealable knife to "slash" and attack those that disagree with them.
Suborning assaults and violence is the antithesis of the fascism they claim to be fighting. It is both illegal, is a disruptive element to society and immoral. Actions like theirs can be effective, might I suggest they read up on "The Night of Broken Glass" The Brown shirts seem to be their type of people.
Now Antifa wants to give guns to their followers or monkeys.
I know this will mostly fall on deaf ears, but for the Antifa – stop and think about the violence you're asking for and planning on committing. Think about the lives that your actions will cost. Realize that the murders and assaults you plan on carrying out will change nothing in your favor. In preparing this article I did as much research as I could on your group, you have no core set of beliefs, you seem to be nothing but paid thugs. Think about those who lead you, always safe and warm and sheltered from the repercussions of the actions they promoted. If all you are is a tool don't let that tool be a weapon.
As for the monkey analogy, it only seems harsh. So I'll apologize in advance to the monkeys. As for the Antifa crowd, the best I can tell is you're just being used. Here have a banana.
To fellow gun owners (all 110 million of you) stay aware of your surrounding and watch your back. In Berkley and where there have been other assaults on free speech, the Antifa groups have not discriminated as to who they attack. Families and people walking by are fair game.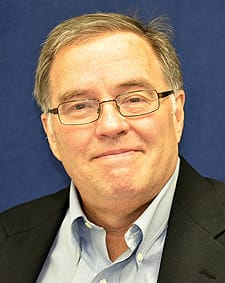 About Don McDougall:
Don McDougall is an NRA instructor and member of the Los Padres "Friends of the NRA" committee. If he's not at the range you will find him setting the record straight with on gun issues and gun safety on AmmoLand Shooting Sports News.