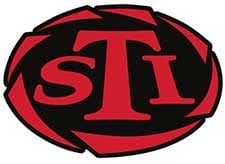 U.S.A. – AmmoLand.com) STI International has teamed up with self-defense and weapons training expert Chris Costa to design the new Costa series of pistols.
The Costa Carry Comp features an island sight, which is attached to the barrel instead of the slide, with the compensator ahead of the front sight. This technology reduces muzzle jump, making it easy to stay focused on the front sight for follow up shots. The compensator reduces recoil by 63% and the gun uses the STI Recoil Master dual spring system to reduce recoil even further, making the Costa Carry Comp one of the smoothest shooting pistols on the market.
The STI Costa Carry Comp is available in both 9mm and .45 ACP in the STI exclusive 2011 platform, which provides higher round capacity. The Modular design of the 2011 transfers recoil along a flatter plain for better control and faster follow up shots. The barrel is 4.15 inches (5.1 inches including the Island Comp) and the gun has a black Diamond Like Carbon finish with tan TreeBark stippled grips and a Picatinny under-rail to mount accessories. Sights are a fixed ledge rear with a fiber optic front. Two magazines are included, both 126mm and 140mm.
The Costa Carry Comp sells for an MSRP of $3,699.
For more information, please visit www.stiguns.com or e-mail [email protected]
About STI International. Performance Defined. STI is based out of Georgetown, Texas and is the premier manufacturer of 1911 & 2011 style firearms. The company is dedicated to providing the highest quality firearms for competition, duty, or self-defense use. From introducing the firearms industry into the precision world of "EDM" hammers, sears, and components to the invention of the legendary 2011 platform, STI has continually led the firearms market in product development and quality.