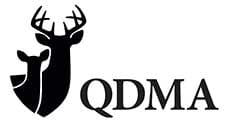 ATHENS, GA –-(Ammoland.com)- The Quality Deer Management Association (QDMA) is pleased to announce that Melissa Bachman of Minnesota, host of Winchester Deadly Passion on the Sportsman Channel, has joined its Board of Directors.
"QDMA has always been an organization I strongly believe in, and I'm excited and proud to be a part of this family and help influence the group's direction and initiatives," said Bachman. "I look forward to helping recruit and educate new deer hunters across the country."
An accomplished hunter, Bachman was raised in Minnesota and grew up with a passion for the outdoors. Surrounded by a family filled with love and mentors galore, Bachman pursued her academic life with the same tenacity with which she approached her passion for hunting. After graduating with honors from St. Cloud State University and armed with a degree in television broadcasting, she set her sights on a career in outdoor television.
Bachman began her career as a TV intern but within months was offered a position as a full-time producer, and she began traveling the country filming, producing and writing a variety of shows. But her dream was to be the one outwitting the prey as well, so she began filming and editing her own hunts. Today, as the host of Winchester Deadly Passion, she spends over 300 days a year in the field, hunting the globe, and producing and hosting her own show.
"Women are the fastest-growing demographic in hunting, and QDMA wants to connect with and encourage this new source of deer stewards. With her reach, her following, her youth and passion for hunting, Melissa can help guide us," said Leon Hank, QDMA Board Chairman. "She is no doubt going to help lead QDMA to the next level as an organization."
QDMA members can meet Bachman and welcome her to the organization at the 2017 QDMA National Convention, July 20-23 in New Orleans, where she is a featured speaker. For more information, visit www.QDMA.com.
About QDMA
QDMA is dedicated to ensuring the future of white-tailed deer, wildlife habitat and our hunting heritage. Founded in 1988, QDMA is a national nonprofit wildlife conservation organization with more than 60,000 members in all 50 states and Canada. To learn more about QDMA and why it is the future of deer hunting, call 800-209-3337 or visit www.QDMA.com. QDMA can also be found on Facebook at www.facebook.com/TheQDMA, Twitter at www.twitter.com/TheQDMA, and Instagram at www.instagram.com/theqdma.