Mike reviews the Mossberg 590 Shockwave Firearm, NOT Shotgun.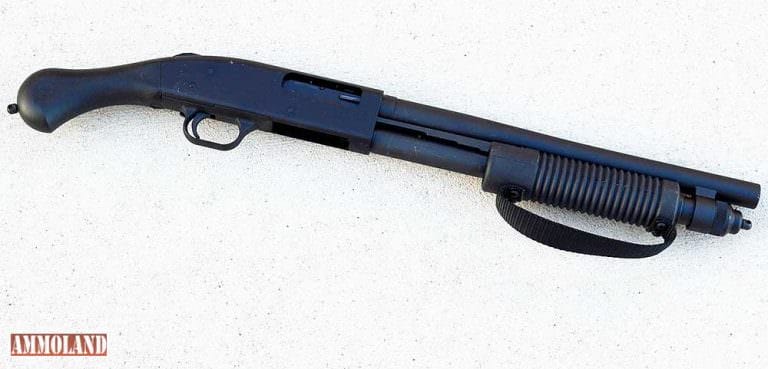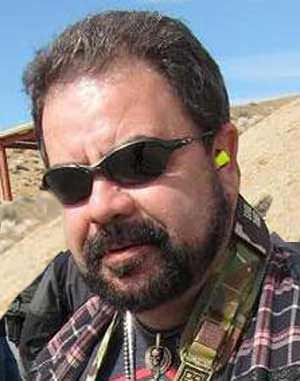 USA –  -(Ammoland.com)- At 2017's SHOT Show we got to lay eyes on several new offerings. One of which was the Mossberg 590 Shockwave. This is a unique firearm with a 14″ 12 Gauge barrel and a Shockwave bird's head pistol grip that gives the firearm an overall length of 26.5″.
It reminded us of the old "Witpro shotguns" used by the US Marshall's Service and Agents in the Witness Protection program with a few differences.
The "Witpro shotguns" were either AOW (any Other Weapon) or SBS (Short Barreled Shotgun) configurations, had wood furniture, some had choke tubes and sported barrels a bit shorter than 14″. We have seen them as short as 8″ but not usually longer than 12″.
The Mossberg 590 Shockwave, on the other hand is not considered a shotgun under federal law, and therefore has no limit on barrel length. It is considered a firearm and in that regard it need only be over 26″ in length without requiring NFA (National Firearms Act) paperwork and taxes.
According to Federal Law (U.S. Code, Chapter 44, Title 18 § 921):
"The term 'shotgun' means a weapon designed or redesigned, made or remade, and intended to be fired from the shoulder and designed or redesigned and made or remade to use the energy of an explosive to fire through a smooth bore either a number of ball shot or a single projectile for each single pull of the trigger."
According to Mossberg:
"The Bureau of Alcohol, Tobacco, Firearms & Explosives has confirmed the 590 Shockwave as a "firearm" per the Gun Control Act (GCA), but not a Class 3/NFA firearm. This only speaks to its FEDERAL status. There could be local/state laws that prohibit the sale of this firearm in your state. Consult your State firearm laws for clarification. Just as with any other pistol grip firearm, the buyer must be 21 years of age, and be a resident of the state where s/he is purchasing it."
The Mossberg 590 Shockwave was never designed to be fired from the shoulder, so it is simply considered a firearm. The Raptor bird's head pistol grip is uniquely shaped to minimize felt recoil and follows the same design as those used on the Witpro shotguns. These were first designed by scattergun Technologies (bought out by Wilson Combat in the late 90s).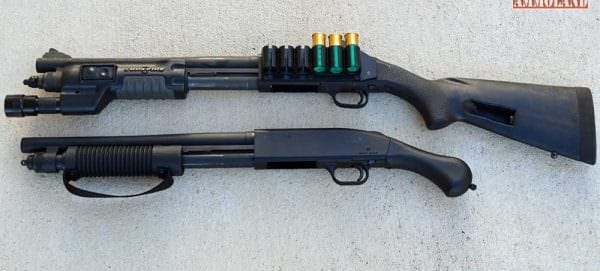 The rest of the Mossberg Shockwave follows the lines and materials of the company's popular 590 tactical shotgun series: ambidextrous top mounted safety, dual extractors, positive steel-to-steel lockup, twin action bars, and a smooth operating anti-jam elevator. The top of the receiver is even drilled and tapped for scope mounting and it is equipped with a brass bead sight.
Technique of the
Mossberg 590 Shockwave
Shooting the Mossberg 590 Shockwave is similar to firing a typical shotgun with a stock. Grasp the grip as if it were a standard stock that you are pulling into your shoulder. The difference is that there is no stock to position in your shoulder or to set your cheek against. Still, you need to pull it rearward as if it were a traditional shotgun and sight down the receiver as normal. Just pretend there is a stock there, if you do not get my meaning.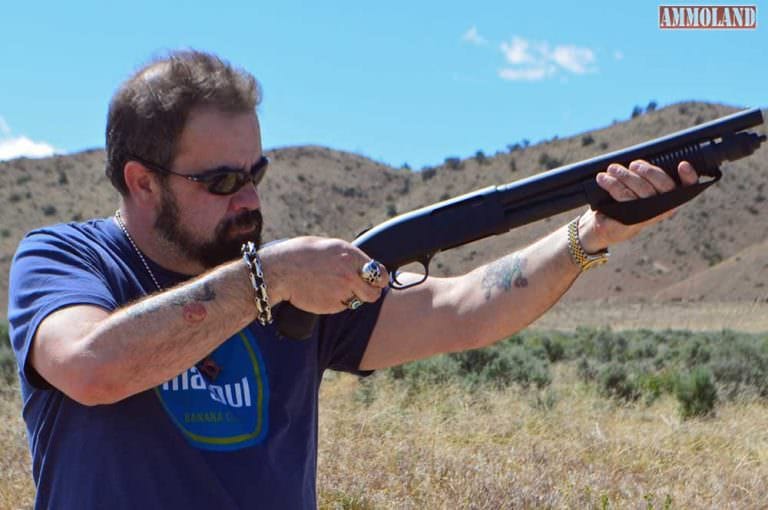 Your support hand goes through the loop (more on this later) and while pulling back with your firing hand, you push forward with the support hand on the forearm's slide. Imagine as if you are trying to stretch the firearm in this manner.
When you squeeze the trigger, the 590 Shockwave should recoil rearward and down. Practice this beforehand with dummy rounds or an empty firearm if you must.
If you try to muscle the gun too much or Rambo it, it will more than likely kick you in the face. It may not be the most pleasant way to shoot something in 12 Gauge but it brings a new level of fun to the table.
The 590 Shockwave Loop
The loop may look different to you and your first inclination might be to cut it off or change out the forend for an AFG, VFG, etc. While adding something of this nature will not affect the legality of the 590 Shockwave (It's over 26″ so a VFG or the like will not turn it into an AOW), it will affect your shooting technique. If you absolutely hate the loop, I would recommend Magpul's shotgun forend as an alternative.
Remember, we are pushing forward with the support hand and should your hand let go and end up in front of the muzzle while a round is going off, you might call your support hand "Hamburger Helper" from then on. The Mossberg forend should offer more protection in this regard due to the contour.
Do not change the Raptor grip, either. Adding a traditional (vertical) pistol grip will shorten the overall length making it an AOW. Adding a traditional butt stock will make it an SBS.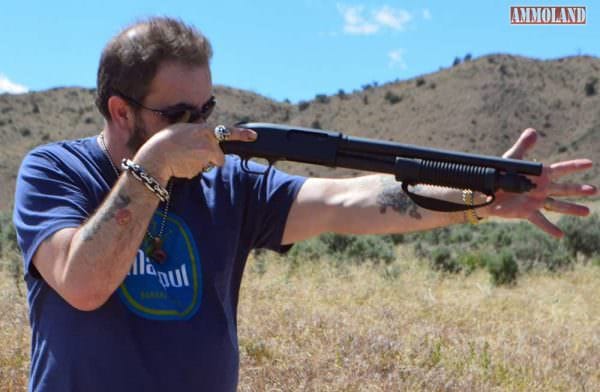 Mind you, if you want either one of those NFA type of firearms, the 590 Shockwave makes for a good base gun upon which to build. Just know that such changes require a Form 1 and a $200 tax.
Mossberg 590 Shockwave Legality
Unfortunately, the Mossberg 590 Shockwave is not legal in all areas. When some states came up with their own Constitutions and fleshed them out with "Weapon Laws" they went a bit further in their definition of a shotgun to include anything that could fire a shotgun shell with a smooth bore barrel or other words of that nature.
We are not just picking on California or a handful of Northeastern states, but places like Texas and Oklahoma. Consult your state's laws for further clarity.
Just like a shotgun that ships from the factory with a pistol grip or a receiver not yet turned into a firearm, the Mossberg 590 Shockwave can only be purchased by persons over the age of 21.
Mossberg 590 Shockwave The Reality
The Mossberg 590 Shockwave is a niche firearm. This is for a situation that may require more than a handgun, but not quite a long gun. Sometimes it may be better for when space is a premium (horseback, vehicle use, etc.) or you need to worry about excessive range if using a rifle.
It is a tricky firearm for most folks to learn to shoot well, but can be accomplished with practice. However, it makes for a fun range blaster.
We fired 200 rounds of Federal 00 Buckshot without a single hiccup. Patterning was fine and we think that 14" is the optimal barrel length for defensive use of a 12 Gauge.
Our only gripe is that we would have preferred wood furniture and choke tubes, but those are "nice to haves" not "need to haves" on a firearm like this.
So if you always wanted a shorter barreled shotgun, but were too lazy to sign a Form 4, complete a Form 1 or loathe the thought of paying a $200 tax and your state did not try to redefine what a shotgun was; you have an option.
Just don't make the mistake of referring to it as a shotgun.
It's just a firearm.
About Mike Searson
Mike Searson's career as a shooter began as a Marine Rifleman at age 17. He has worked in the firearms industry his entire adult life as a Gunsmith, Ballistician, Consultant, Salesman, Author and was first certified to teach firearms safety in 1989.
Mike has written over 2000 articles for a number of magazines, websites and newsletters including Blade, RECOIL, OFF-GRID, Tactical Officer, SWAT, Tactical World, Gun Digest, Examiner.com and the US Concealed Carry Association as well as AmmoLand Shooting Sports News.
Home page: www.mikesearson.com
FB: www.facebook.com/mike.searson
TWITTER: www.twitter.com/mikesearson