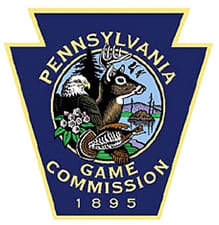 USA -(Ammoland.com)- In Pennsylvania, it's turkey season.
And the National Wild Turkey Federation Pennsylvania State Chapter recently honored two Pennsylvania Game Commission officers for their work in wildlife conservation.
Pennsylvania Game Commission Land Management Group Supervisor Jerry A. Bish, of Conneaut Lake, was named recipient of the National Wild Turkey Federation's Joe Kurz Wildlife Manager of the Year Award for his work managing wildlife habitat.
And Wildlife Conservation Officer Daniel Murray, of Milesburg, was named the National Wild Turkey Federation's 2016 Conservation Officer of the Year.
Each honor recognizes the officers' service during 2016, and was presented at the Pennsylvania Board of Game Commissioners' recent meeting.
Joe Kurz Wildlife Manager of the Year Award:
The award Bish received is named in honor of a former Georgia Department of Natural Resources wildlife chief for his leadership and the vital role he played in improving wildlife management. Kurz also was a prominent figure in wild turkey trap-and-transfer programs across North America.
Bish graduated from the 20th Class of the Ross Leffler School of Conservation in 1989, the first class to graduate from the school constructed at the Game Commission's Harrisburg headquarters. He was promoted to Land Management Group Supervisor in 1992.
Bish manages the Pymatuning Wildlife Management Area, a high-profile and complex area on State Game Lands 214 comprised of more than 8,000 acres. Public-hunting opportunity for a variety of game species, including wild turkeys, can be found on the game lands.
Bish applies scientific management principles and keen observation to land-management strategies at Pymatuning. He manages the lands under his control for wildlife habitat through wetland water level manipulations, invasive-species control, timber management, planting food plots and maintaining nesting boxes, just to name a few.
He has worked with the NWTF Lakefront Gobblers Chapter on State Game Lands 101 to eradicate reed canary grass and replace it with forbs for wild turkey escape and brood-rearing cover.
"I was very pleased to see LMO Jerry Bish nominated for the NWTF's Joe Kurz award this year," said NWTF Pennsylvania state chapter president Ralph Martone. "While goose hunting in the controlled shooting area of Pymatuning, I have witnessed the respect hunters have for LMO Bish.

"I truly believe that LMO Jerry Bish is the reason the controlled hunts at the Pymatuning Wildlife Management Area are so popular and successful in providing a unique hunting opportunity for so many hunters each year," Martone said.
In 1989, LMO Bish was recognized as "Conservationist of the Year" by the Armstrong County Conservation League. In 2001, he received the Shikar-Safari Award for exceptional performance by a wildlife conservation officer. In 2008, he received the Ducks Unlimited Conservationist of the Year Award for his work with waterfowl and wetlands.
Conservation Officer of the Year:
Murray began his career in conservation law enforcement beginning in 2010, after being selected as part of the 28th Class at the Ross Leffler School of Conservation. After nearly 50 weeks of training, he was assigned to a Centre County district in March 2011.
Murray quickly became involved with sportsmen's clubs, the county envirothon and Hunter-Trapper Education classes, and in 2015, was in the top 20 percent in the Northcentral Region for prosecutions and warnings, with fines from his cases totaling $17,175.
Murray took the lead in getting a concentrated law-enforcement effort in the region organized that included air support from the Pennsylvania State Police. He also has served as a region defensive tactics instructor and a Taser instructor for the region.
"WCO Murray's district in Centre County presents a unique challenge in law enforcement and community relations," Martone said. "Encompassing some of the state's most remote landscapes and a wealth of wildlife, Officer Murray's district offers exceptional challenges for any officer.

"Officer Murray has risen to those challenges by creating an outstanding law-enforcement presence while acting as a resource and role model in the local community. WCO Daniel Murray truly represents the finest qualities of the Game Commission within his community."